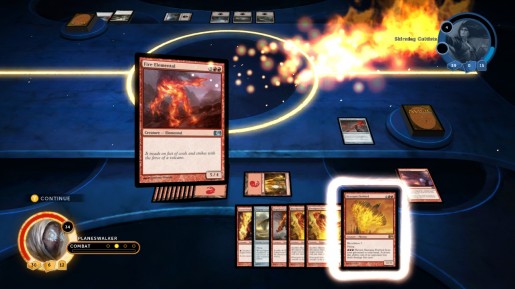 Magic 2014: Duels of the Planeswalkers is the latest entry in the Magic: Duels of the Planeswalkers series that released last June for a variety of platforms. Starting today, you can download the third round of DLC for the title that provides new decks for you to use in battle.
For only $2.99, you can download the third Deck Pack that will add two decks to your collection in the game. These two decks are known as Warsmith and Hunting Season and are described as follows:
-Warsmith:
In the red and white "Warsmith" deck, the mere presence of your artifacts on the battlefield will bolster your unstoppable forces and empower your spells. Forge your army, and march to war!

-Hunting Season:
With the green "Hunting Season" deck, the creatures at your command will become unnaturally large, and if that should prove insufficient to crush your enemy, make more creatures. Call the hunt!
You can download this pack starting today on Xbox 360, PlayStation 3, Steam, iOS, and Android platforms.