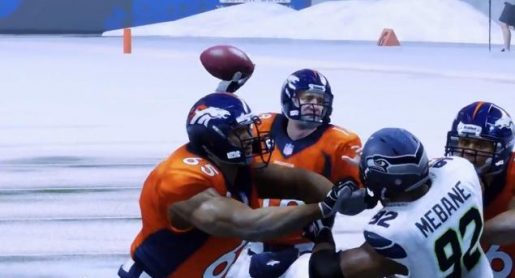 With EA Sports' Madden franchise as the only NFL licensed games on the market for the last many years, they have been the go-to simulation for Super Bowl matchups. With Super Bowl XLVIII only five days away now, it made sense to do another simulation, this time between the Denver Broncos and Seattle Seahawks on Madden NFL 25, which led to a recap being posted to the official YouTube page for EA Sports.
For starters, of course the game had to be set with plenty of snow around due to the setting for this year's Super Bowl at MetLife Stadium and the possibility of winter weather. The score updates given are kind of random, but at some point in the 2nd quarter, the Seahawk's Richard Sherman returned a pick-six to put them up 10-7. In response, Peyton Manning and the Broncos fired back and eventually moved up to 21-10 in the 3rd quarter. However, the Seahawks and their never say die attitude fought back, including a touchdown at the end of regulation to cut the lead to 28-26, which brought the game down to a crucial two-point conversion. A Russell Wilson option play punched it in to take the game to overtime tied at 28.
The Seahawks received the ball to start overtime, but were quickly forced to punt it back to Peyton Manning and the Broncos. This meant all the Broncos needed was a field goal as the Seahawks already had one chance with the ball in overtime. Of course, it came all down to a fairly long field goal in not the best of weather conditions, but Matt Prater came through and narrowly got it through the uprights to take the Broncos to a 31-28 victory and the Lombardi Trophy.
Do you think the game will go down similarly to this on Sunday? Who do you want to win? Feel free to comment below on this and what you thought of EA Sports' simulation.