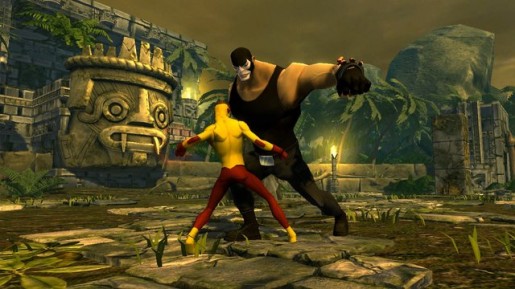 Even when the combat may get a little repetitive, we luckily have some very fun boss battles to shake it up. There are some battles against bosses that are no different than regular combat. Then there are some very different experiences, such as the battles against Black Manta. This two part battle features you having to take down Black Manta's submarine first of all by disabling the power around a circular battlefield. This is followed by a battle where you must destroy generators to free Aquaman while fighting against Black Manta. It is quite nice to not give every boss a health bar, but rather have steps to destroying them otherwise.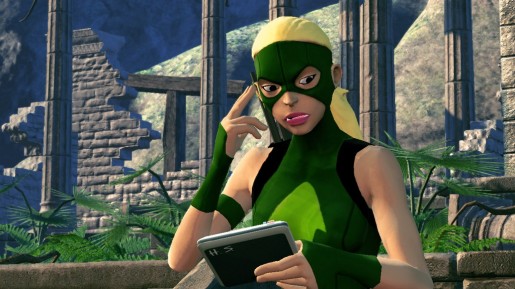 There is no doubt that this game is a tie-in to the cartoon based on the animation style, as they took the series' 2D designs and transferred them to the 3D plane. The problem is that sometimes the character models look a little stiff and jagged, especially during extreme close-ups shots. When just moving through the stages, everything looks fine due to being zoomed out, but whenever the camera focuses in closer, that is when the problems begin.
On the other hand, the voice acting in the game is absolutely spectacular. Returning the entire cast from the television series, the characters don't skip a beat in their transition from cartoon to game. The series itself already had one of the best all-around casts and that carried over nicely to the game. Jesse McCartney, best known in the video game realm as Roxas from Kingdom Hearts, brings Dick Grayson's wit and charm as Nightwing with a lot of use of his favorite term "whelmed." Khary Payton was a standout on the show as Kaldur, aka Aqualad, and this game is no different, especially later in the game where he gets some more dramatic scenes to voice.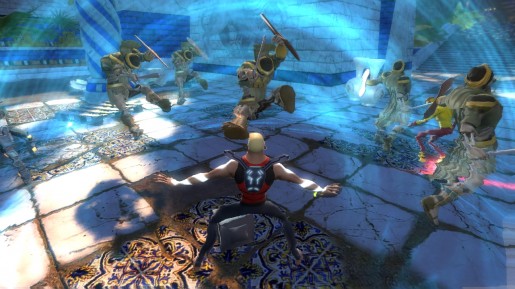 Speaking of the camera, the angles utilized in this game are pretty solid. Through most of the game, you have control of the camera if you do not like the auto placement. However, there are some areas where the game takes full control, such as to have a front view. This often feels awkward, especially when foreground objects start to get in the way.
Beyond the occasional camera issues, Young Justice: Legacy also suffered some technical hiccups at various times. There are moments where your characters will walk through objects, such as stairs that you can't actually use. Luckily, situations like this don't hinder the gameplay experience. However, I did have a few other moments, including an annoying glitch during the final boss fight. Without any specific details, enemies constantly respawn throughout, and filling your team power meter is vital to winning this fight. Near the end, those enemies stopped respawning, making it impossible to defeat the final boss, which caused me to have to restart the battle completely.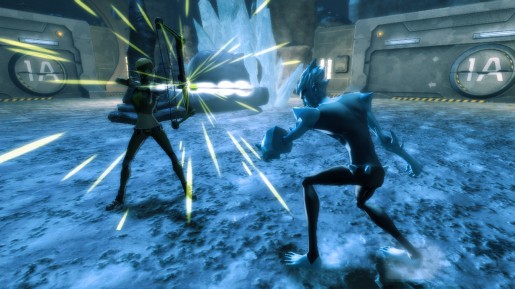 The game also features some little elements to extend your time with the game, including challenges and trivia. Challenges include modes like Horde, where you will face wave after wave of enemies or Survivor, where you slowly lose health and the only way to get it back is to defeat enemies. For those up to the task, you can try Young Justice Trivia from your main hub at Mount Justice. These questions are no slouch either, with very detailed questions about the show itself. The addition of online multiplayer also allows for more longevity and team interactions, but I've had a terrible time finding matches to play online, due to a lack of gamers online at that specific time.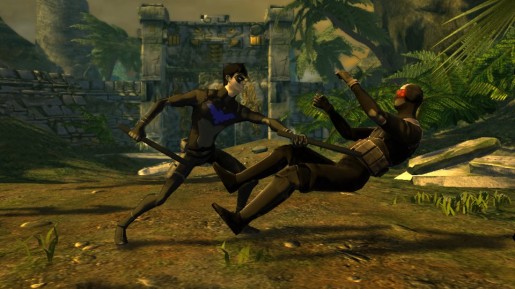 Young Justice: Legacy is a somewhat linear, but very whelming experience, as Nightwing would say, especially for fans of the cartoon series on which it is based. The combat is similar to most games in this genre, but still sets itself apart enough with unique characters and special abilities. The boss battles switch up the formula enough to keep you interested as you play through a very well crafted story with superb voice acting. The game is a must play for fans of Young Justice, but your mileage may vary otherwise. As with most tie-in games, especially one that is story oriented, the game is tailored to the fans specifications, but Young Justice: Legacy is still a good enough game on its own to be worth at least trying out for fans of the genre.
[Editor's Note: Young Justice: Legacy was reviewed on the Xbox 360 platform. The game was provided to us by the publisher for review purposes.]
Young Justice: Legacy Review

,