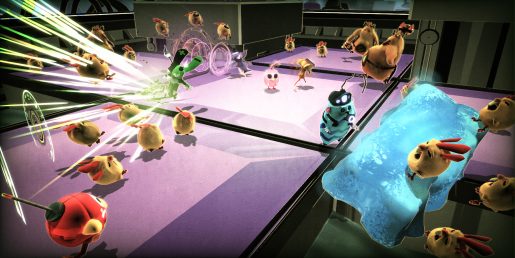 The art style of the overall game is leaning towards playful and zany as you can notice from the animals themselves. The level design is also interesting as it utilizes as many parts of a lab as it can including a few scientific references and Rube Goldberg machines however at times; particularly during the maze like sections where you have to guide a ball to a goal while many bottomless pits and obstacles are in your way. It can be a bit annoying but it doesn't hamper the gameplay too much. The zany art style continues throughout and it makes it easy on the eyes, and look cool to kids. Graphically you won't be writing home about Tiny Brains, but not many indie titles are graphics heavy anyway.
The voice-work is almost non existent, you will hear the "mad scientist" egg on the animals a few times during the story but that is about the extent of it. There is really no voice to any of the other main characters except for sounds that Pinky the head chick might make. It is sort of disappointing, but I guess within the context of the game it does make sense. The sound is spot on though from ice blocks forming and sliding across platforms to the animals running across the lab. Just about every part is great sound wise and the music is an interesting addition to the atmosphere of the title.
Once you are done with the story, your options in modes broadens with a challenge mode that has a few ball challenges which are endless, combat challenge and a few puzzle challenges which can all be played either offline, couch co-op or online just like the main story. Also unlocked after completion of the Tiny Story mode, is Tiny Trolls mode; a couch co-op/solo mode only, Jules Mode; a hybrid animal that has all powers but only has one life, basically if you die you restart the chapter. Finally there is a soccer type mode where you have a set amount of time to shoot a ball to each side of the room using powers and can be up to six players. The modes are pretty nice, but it is kind of odd that Tiny Trolls mode is not online. It all adds to the longevity of the title as you get better at the game. There is also leaderboards and that type of thing if you are into that.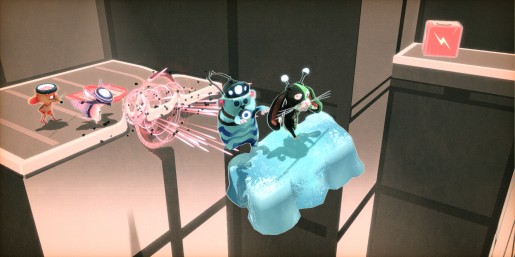 The online is relatively seamless with voice chat in game, and the ability to use the touch-pad on the DUALSHOCK 4 to mark positions of interest for another play if you don't have the ability to chat. Each puzzle in the game; including those in the story, have multiple ways to solve them it is up to you to utilize the animals powers and the wits between you and your friends to come up with unique ways. One thing I did notice while playing online that was sort of irritating is that if you aren't in Tiny Story mode, but instead are in the challenge mode you have to re-invite friends every time you choose a new challenge which was kind of annoying.
Tiny Brains is certainly a unique puzzle title with heart and a whimsical nature to it. It has some fun times through the playful yet short story about four lab animals, but the fun is heightened when you play it the way it was meant to be played. This is via friends either online or at home. Hopefully Spearhead will get a chance to make a sequel and fine tune all the aspects of the game. Tiny Brains attempts to channel the time before online where we just sat around and played with friends and family by our televisions and Spearhead did a wonderful job capturing it in this slightly flawed, but overall enjoyable experience.
[Editor's Note: Tiny Brains was reviewed on the PS4 platform. The game was provided to us by the publisher for review purposes.]
Tiny Brains Review

,