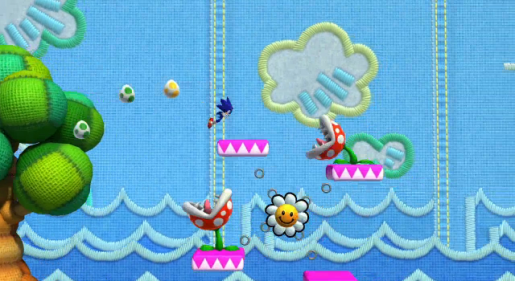 Sonic: Lost World was the first of three completely Nintendo exclusive titles in a new partnership between Sega and Nintendo. While not the most innovative game, it was still fun in some areas and today's Nintendo Direct revealed some information that definitely grabbed my attention. The Wii U version of Sonic: Lost World will be receiving two exclusive Nintendo themed DLC stages, the first of which is available right now for free.
The stage showcased in the Direct is based off of Yoshi's Island titled Yoshi's Island Zone where you see very familiar locations, enemies, and music. In this stage, you must collect the Yoshi eggs scattered throughout. This DLC can be downloaded right now on the Nintendo eShop for free.
The other DLC stage was not named, but it's pretty obvious what franchise it is from based on a hint from Satoru Iwata. He said "Fans will be able to link their Wii U system to the Nintendo eShop early next year to download the DLC." You would assume that this means it will be some sort of Legend of Zelda themed stage.
Footage of the Yoshi's Island Zone can be seen in the part of the Direct embedded below: