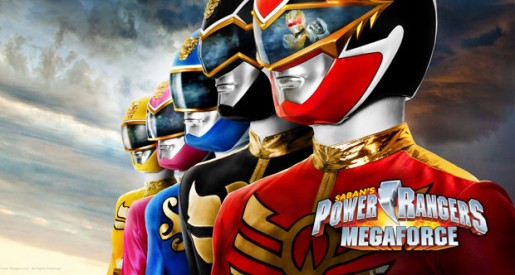 Power Rangers debuted on our televisions on August 28, 1993 and became almost an overnight sensation amongst most every kid at the time. Fast forward to now and we have arrived at the 20th anniversary of the series with the latest season, Power Rangers Megaforce. Based on the Super Sentai series Tensou Sentai Goseiger, Megaforce attempts to recreate the magic of the original series by making a return to high school and teenagers with attitude. A follow-up will be coming next year titled Super Megaforce, but in the meantime, we have a game based on the first season that just aired its finale this past Saturday, titled Power Rangers Megaforce.
Throughout the years, there have been many Power Rangers games across multiple platforms, some better than others. I personally grew up with the Mighty Morphin' Power Rangers game and Mighty Morphin' Power Rangers: The Movie game, both for SNES. In fact, I couldn't even begin to tell you how many hours I've put in between those two games over the years. Sadly, Power Rangers games began to dip in quality over the years, though there were some bright spots, such as the Power Rangers Super Legends games.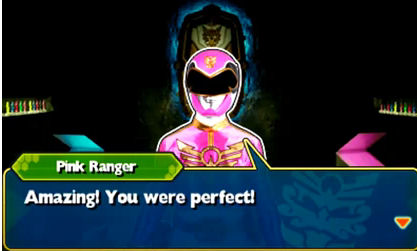 Power Rangers Megaforce chooses to go with a classic side-scrolling style, similar to most Power Rangers games, but does have some depth in the backgrounds to move up and down rather than only left to right. The problem is that there is usually little reason to even bother moving up and down on the screen. Old games have obstacles that may appear at random points on screen, with only certain areas that are safe from harm. There are a couple stages with flames shooting out from the floor that you could technically move up and down to avoid, but I pretty much walked about through them and noticed little problems.
The combat in the game is very simple and easy to learn, which is a good aspect in a kids game. On most stages, you will have control of one of the five rangers, with the ability to switch amongst them at almost any time. Each has a different main attack, the Red Ranger Troy has his Dragon Sword, Black Ranger Jake has his Snake Axe, Blue Ranger Noah has his Shark Bowgun, Yellow Ranger Gia has her Tiger Claw, and Pink Ranger Emma has her kick attacks. The Pink Ranger actually does hold her Phoenix Shot, but considering it would be too similar to the Shark Bowgun as a projective, I guess they chose to have her use kick attacks instead.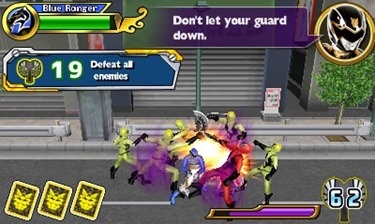 Every ranger also has the ability to use their Mega Blaster in battle, but I mostly just stuck to my main attacks rather than using the long range weapon, especially considering it is much faster to take down enemies close-up and there aren't really any battles that require it. About the only use I had for the Mega Blaster was to destroy explosive boxes and barrels from a distance.
As you continue through the game, you will pick up a few different power cards that can be used in combat or against obstacles, but with the game being so easy, I never even bothered to use them unless I had to get past a barrier. The more you play, the more tiresome the combat gets as there are almost zero changes to the formula. Eventually you will unlock a special Ultra Mode attack, but all that does it provide a cutscene, that you luckily can skip, and does damage to all of the enemies on screen. Otherwise, you will be fighting the exact same hordes of Loogies, the henchman in the series, with an occasional boss thrown into the mix on every single stage of the game.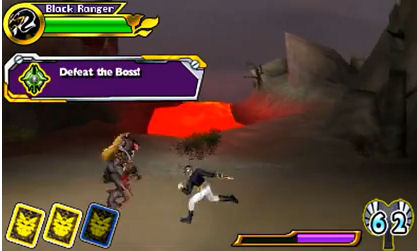 The boss battles are a total joke as well. They are pretty much ruined by the fact that they occur so often, and for the most part are the same few bosses. They each have just about the same exact pattern, so not a single one is surprising or fun in the least, with each only moving around waiting to get hit. Then they charge up for a second and strike forward. All you have to do is avoid that strike and attack. The best Power Rangers games, and really the side-scrolling beat-em-up genre, have always been defined by clever boss battles that will keep you guessing from one level to the next. Power Rangers Megaforce did not seem to even try to make these fights fun or clever with some of the most disappointing boss fights I've played in this genre ever.
Power Rangers Megaforce Review

,