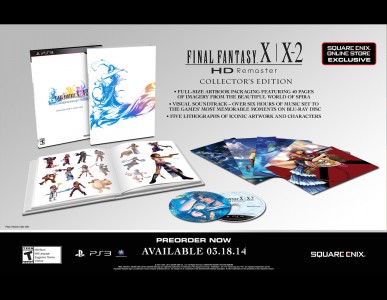 Much like the Lightning Returns: Final Fantasy XIII special edition only available in North America through Square-Enix's webfront, there is a similar collector's edition arriving for Final Fantasy X+X2 HD Remaster.
For a mere $79.99, gamers can acquire the Final Fantasy X / X-2 Collector's Edition for Playstation 3 directly from Square-Enix's digital storefront and Digital River. In addition to the pair of games on one bluray disc (A $39.99 value), there are a few bonus items that you can check out below.
• Full-size artbook packaging, featuring 40 pages of imagery from the beautiful world of Spira
• FINAL FANTASY X HD REMASTER ORIGINAL SOUNDTRACK (Blu-Ray MUSIC DISC) – Over six hours of music set to the game's most memorable moments
• Five lithographs of iconic artwork and characters
Final Fantasy X / X-2 Collector's Edition will be arriving the same date as the standard edition, March 18th 2014. You can check out the collector's edition for yourself HERE.