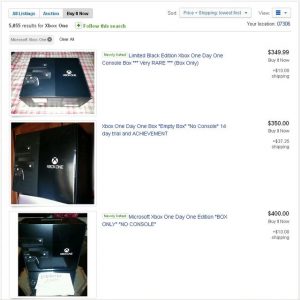 Here's an odd story, Xbox One cardboard boxes have been selling for high prices over on eBay.
That's right, there are people out there paying hundreds of dollars on cardboard boxes. One listing on eBay sold for $500. I don't know why anyone would buy a box without the Xbox One console itself included. Unless of course the buyers didn't read the listing properly…
Bear in mind, this is a box for the "Day One" edition of Xbox One. I'm guessing some people will think the box will be valuable in the future one day.
Would you be willing to spend top dollar just for a cardboard box?