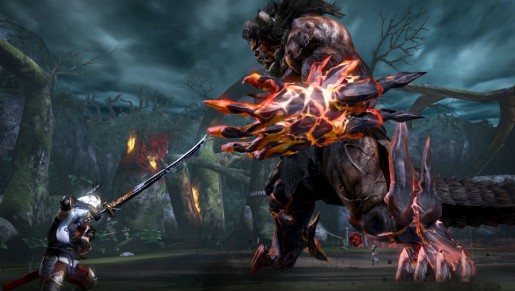 The anticipated Toukiden: The Age Of Demons has finally received a release date and pre-order info for the Playstation Vita. Players can look to get their hands on it early 2014.

Toukiden: The Age Of Demons is an action adventure title set against the backdrop of historical Japan. It tells a story of an ancient Japan mixed with both historical and fictional Japanese characters that must fight off invading demons (Oni) from a rip in time and space. Featuring an extensive created character option players will mold a new Slayer to face the hordes of invading Oni. Customization doesn't stop at the character and moves onto the armor and weaponry available. The title is being developed by famed Dynasty Warrior developers, Omega Force.
Players who pre-order Toukiden: The Age Of Demons at specific retailers will have a slight head start on other Slayers. Those who pre-order at Gamestop will receive Two Extra Mission Collections as well as the "Mitama of Niijima Yae." Those who pre-order on Amazon will receive "Mitama of Momotaro," a warriors soul that will strengthen player's skill and Two Pieces Of Player Armor  (Cat's Ear & a Fox Mask).
Toukiden: The Age Of Demons is set to release on February 11th, 2014 in North America exclusively on the Playstation Vita. Check back with us near release for our review of the game.