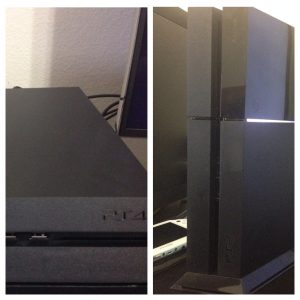 Whenever someone buys their new console like the PlayStation 4, many are wondering if there's really a preferred way of positioning the console. Is horizontal, which is the default position, any better than standing it up vertically?
Just like the PlayStation 2 and PlayStation 3, the recently released PlayStation 4 is designed to go both ways: horizontally and vertically. When it comes to deciding which one is the best, it really all comes down to your personal preference. However, there are pros and cons in each of the position that you need to worry about. The same rule still applies on the positioning just like on other consoles.
*This article is based on our observations.*
Horizontal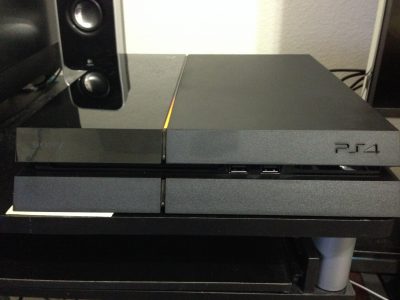 Pros:
Quiet Disc Drive
Gamers who prefer a quiet disc drive when playing games, placing your PS4 in the horizontal position will give you that. Just think about the laws of gravity when placing the disc. You put less stress to the disc drive when placed horizontally opposed to the vertical position.
Provides More Cooling
Now that every game console produces more heat than previous ones, it's important for the PS4 to stay cool at all times to prevent the internal parts from frying or melting. If you want your console to get as much air to the inside, putting it horizontally will give the PS4 cool air as both sides of the PS4 have an intake vent.
Cons:
Slightly Wobbly
If you decide to put the PS4 in horizontal position, you will notice that it doesn't that if you push down the side where the Sony logo is, it will slightly wobble. It looks like the side where the Sony logo is placed doesn't have much of rubber to put it in a stationery position. The wobbly problem isn't really a big deal, but can get annoying if you have OCD. To fix this problem, simply get a stack of thin paper/index cards/or post it notes and put it under the side where the Sony logo is. Situs Judi Slot Online Gampang Menang
Takes a lot space
The amount of space the PS4 takes when placed horizontally has always been a problem by everyone who doesn't have a wide entertainment shelf. IF you have small space to put your PS4, your best bet is to really put in a vertical position.
Vertical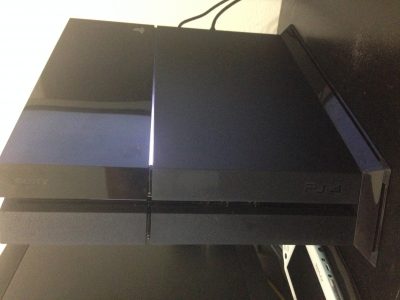 Pros:
Saves Space
If you don't have enough space to put your PlayStation 4, putting the console in vertically is something you will need to consider.
Stylish
Putting your PlayStation 4 in a vertical position makes your console look very stylish due to its design. If you want to show off your console to your friends and that led light that lights up when powered on, then put it in vertical position.
Cons:
Risk of Tipping Over
One risk that everyone needs to consider when putting your console in vertical position is tipping it down. If you have a dog, cat, or a little kid who loves playing around, there's a risk that you will tip over the console and break something.
Not as Quiet
When I put my PS4 in a vertical position, I noticed that the console isn't as quiet as Sony promised it to be. The noise coming out from the console is from the fan that kicks in very hard and the disc drive when reading discs.
Can get very warm
Comparing the temperature from the horizontal and vertical position, I noticed that the vertical position runs a little bit warmer. Remember, when you put the PS4 in a vertical position, you are taking one in-take vent out since you have to put a stand on its side to make your PS4 more secure. When this happens, you are only allowing one in-take vent to get as much cold air from the outside to the inside, making your console run a little warmer. Well, this will result in fans kicking at high speed, making your console run louder.
Costs an additional $20+
Unfortunately, the vertical stand isn't included on the PlayStation 4 and you have to buy it separately.
[Editor's Note: The vertical stand of the PlayStation 4 and the console itself was provided to us by Sony to do these tests and observations.]