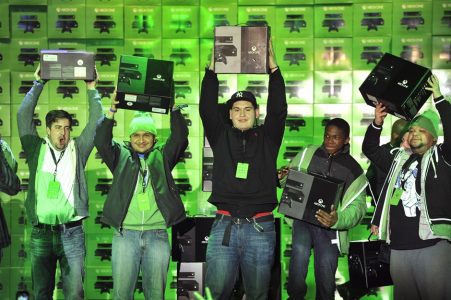 Microsoft is pleased to announce today that Xbox One managed to sell over one million units in less than twenty-four hours.
According to Microsoft, "Xbox One [has] Biggest Launch in Xbox History" as it beats the sales record of the Xbox 360 when it came out back in 2005. With almost every major retailer sold out of the system, Microsoft assures that those gamers looking for a console will be able to find one soon as they're trying to replenish stock as sson as possible.
With the launch of the Xbox One's biggest titles like Dead Rising 3, just how many zombies have been killed since the debut of the game? Here are some quick facts:
– Over 60 million zombies have been killed in "Dead Rising 3"
– Over 3.6 million miles driven in "Forza Motorsport 5"
– Over 7.1 million combos in "Killer Instinct"
– Over 8.5 million enemies defeated in "Ryse: Son of Rome"
"We are humbled and grateful for the excitement of Xbox fans around the world," said Yusuf Mehdi, Corporate Vice President of Marketing and Strategy, Xbox. "Seeing thousands of excited fans lined up to get their Xbox One and their love for gaming was truly a special moment for everyone on the Xbox team. We are working hard to create more Xbox One consoles and look forward to fulfilling holiday gift wishes this season."
Check back with us in the coming days for our full coverage of the Xbox One including our reviews of the launch games and more.