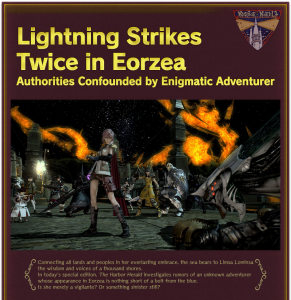 Starting today, adventurers of Eorzea in Final Fantasy XIV: A Realm Reborn will finally see Lightning in certain areas of the game.
In celebration of Lightning Returns: Final Fantasy XIII release in Japan this month, Final Fantasy XIV: A Realm Reborn and Lightning Returns will have some sort of a collaboration. From November 14th through until December 9th at 6:69AM, players will be able to participate in an event where Lightning will be joining you. Every week, there will be a new chapter that players can do and once a player completes them, they will be rewarded with an achievement and a set of gear inspired by Final Fantasy XIII characters.
In recent days, the city-states are atwitter with talk of a rogue adventurer roaming the land. Clad in peculiar garb and wielding a blade alien to this realm, she has been sighted dispatching foes with lethal efficiency, only to vanish before her identity can be ascertained. Who is this fearsome warrior, and to what end has she journeyed to Eorzea? Ever wont to seek out the truth, the Harbor Herald has dispatched a reporter to probe the mystery behind this otherworldly personage.
For more information on this event, check out the full guide of Square Enix.