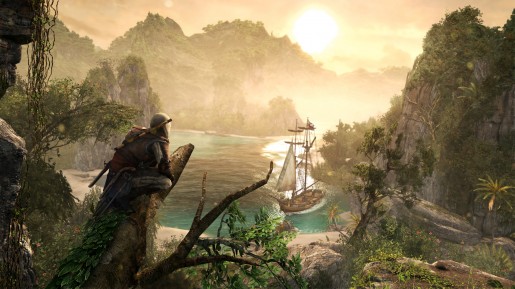 Gamers who will pick up their Xbox One this Friday can now purchase Ubisoft's Assassin's Creed 4: Black Flag.
For Xbox 360 fans who rather wait for the next-gen version, now is the time to pick them up at your local retailers ahead of the Xbox One's release. With the Xbox One version, Ubisoft aims to bring the beautiful and dangerous seamless open world of pirates and Caribbean to life with stunning next generation graphics.
In addition to Assassin's Creed 4 setting sail on Xbox One today, the PC version is also available. It comes with three editions:
– The Standard Edition, available as retail or digital formats.
– The Gold Edition with Season Pass, a premium edition including the game, as well as bonus in-game content including new locations to discover and explore, additional customization items and a new adventure starring Aveline as the main character.
– The Uplay Gold Edition with Season Pass, an exclusive digital package including all the contents from the Gold Edition, plus an additional in-game pack, Pride of the West Indies. This bonus content is exclusive to the Uplay GOLD edition, available for pre-order here: http://shop.ubi.com/ac4deluxe
We have reviewed the PS4 version of Assassin's Creed 4. If you are wondering what we thought of the next-gen version of the game, check out our review. For the Xbox One version, check back late this week for our review.