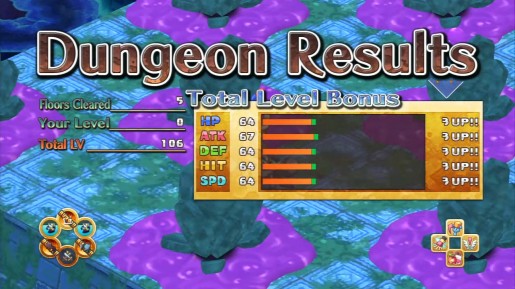 An important feature of a roguelike is the use of randomly generated dungeons and The Guided Fate Paradox does so wonderfully. While abiding by the styles of each chapter as listed before, such as the undersea levels, the main story chapters each have their own distinct style and unique mechanics that can either aid or hinder Renya's progress. Each and every delve Renya makes will be as if they were his first, with nothing about the levels persisting through each attempt. Every time Renya enters the Circuit, his level is reset down to 1 and he must begin his journey anew. The only thing that can stick around with Renya is whatever items he carries on his person, or leaves back home in the thousand item item stash. Renya's equipment will stick around with him, but it only lasts as long as he doesn't bite the dust. Find yourself with zero HP at any time and you'll find yourself being brought back to the home base of Celestia with only half of your remaining gold and not much else. Any death will result in losing any equipment on Renya, so be sure to save often and take caution unless you want to lose that +10 Rocket Launcher of yours.
One reason to possibly keep going after seeing that dreaded death screen is to keep Renya's 'Total Level'. You see, every time that Renya levels up in the dungeons, something that you simply can't avoid as he keeps being reset to level 1 whenever he starts a dungeon, his 'Total Level' will increase. His basic stats will raise higher and higher at level 1, making it easier to start a particularly difficult dungeon with a little headstart.
Another perk of just playing through the game and seeing as many 'Level Up!' popups as possible is to take full advantage of the Divinigram, a board inspired by the License Board of Final Fantasy XII. Each level up will grant the use of holy icons, each raising Renya's basic stats and laying the foundation for more powerful modifications to be installed. These modifications, or holy artifacts, are power decorations that can greatly improve Renya's fighting capabilities but require the be paid down on tiles, typically of a particular color to take effect. The primary artifacts are the ones that increase the effectiveness of Renya's equipment in each slot, the effectiveness depending on the length of God Energy running from a source from each corner of the board into artifacts, A creative player could easily run a number of pathways and Changer artifacts to get a fairly sizable boost to their holy artifacts with the right board placement.

Like a true roguelike, even taking full advantage of the Divinigram and having a sizable equipment set still won't be enough to coast through The Guided Fate Paradox with ease. Dangers can present themselves at any time, especially when you least expect them. There has definitely been more than a few occasions where I've progressed through a dungeon floor and nearly made it to the end when a sudden twist of fate finds me in a terrible situation with no way out. Whether it's a random encounter with an enemy like a minotaur that can clear you down in one strike or perhaps a series of traps that quickly reduce your vitality to nothing when you least expect them. I'll have to say that the worst moment I had to cry foul was being teleported to a room full of monsters than could poison and paralyze me and finding myself watching my health tick down with no options to escape before that game over screen popped up.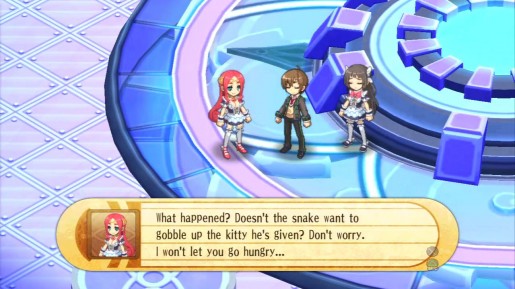 One area that The Guided Fate Paradox could use a great deal of work is its pacing. Each story chapter opens up with a few minutes of dialogue, alluding to the wish giver and what their real desire is without giving it directly away, cue one, maybe two floors of gameplay before jumping out to the Original or Copy Worlds and going through a dialogue between faceless characters, sometimes about purely unrelated things before venturing onto the next floor. This tends to repeat itself on nearly floor, sometimes leading to sifting through more dialogue than actual gameplay during the first run through each wish in the Fate Revolution Circuit.
The beginning of the game is certainly the worst offender of this. During my initial thirty minutes of play through the game, I managed to touch the controller for nearly two minutes, all of which was simply going through tutorials. Early game tends to be just as bad, with lengthy tutorials teaching many of the game's core mechanics before letting the player attempt the next wish at their leisure. Skipping the conversations would certainly strip down much of this downtime, but then important story elements could easily be skipped over and players may find themselves lost when new story characters come out of the woodworks and become integral to the story, something that will happen at least once a chapter if you're not paying much attention. Later runs in the dungeon certainly go much faster, so it's only worth noting that the pacing only really pertains to the story moments or tutorials.
The Guided Fate Paradox certainly has a charm of its own even as a spiritual successor to a PSP title from years back. Both the difficulty and random aspects of the dungeons stand as the high points for me, unfortunately there's a certain something lacking as well. The longevity that the Disgaea games are known for doesn't exist on the same scale in Paradox but that shouldn't deter fans that want to enjoy NIS America's latest experiment.
The Guided Fate Paradox Review

,