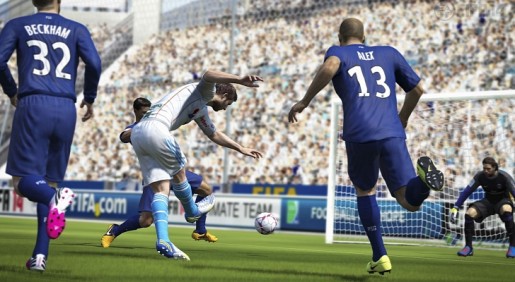 Not Just Pace
Pace is a hot topic when it comes to FIFA players. Whether it is complaining about the pace abuse of fast players in FIFA 13 or on the other side of the coin remarking how good a player is due to his pace you will rarely find one solid opinion. However, EA Sports has seemingly determined this year more than any before that they would try to mix things up in an attempt to reduce the effects of stupidly fast players. With the gameplay being faster already, even relatively slow players feel like they are quick and it is strength that proves to be important. A strong defender with reasonable pace manages to hold off even the quickest players, unless a carving run or lobbed through ball is timed perfectly. This isn't to say fast players are no longer effective, but perhaps more thought will have to be put into teams as a result: especially when it comes to defense and attackers who can easily be pushed off the ball.
Multiple Gamemodes
Career mode is back with a couple of additions to keep players hooked and interested for another year of celebrations and heartbreaks. The new scouting system seems logical and while I am never one to extensively use scouts, I am sure plenty of FIFA 14 stars will be found using the feature. The winning formula has hardly been tampered with much but as they say, if it isn't broken don't try to fix it.
If Career mode is not your cup of tea, then perhaps the unique card orientated football game mode, FIFA 14 Ultimate Team, is. Referred to as FUT 14, Ultimate Team has been revamped and improved by the removal of player formation cards. Now gamers will be able to change their teams formations on the fly without having to worry about the side effects on the team's chemistry.
For those who still don't feel that there is enough from these two massive game modes, there is more so don't despair. The Multiplayer mode Season returns bringing with it a new Co-op Season mode allowing respectively 1 or 2 player(s) to play in divisions online, striving to win and remain in the top division.
The range of Skill Games has been bolstered offering more ways to train and improve your game. The new pacing games are certainly ones to master with the fast-paced nature of the game getting those defense splitting balls perfected can win you the game. The others such as crossing and dribbling are helpful but I found the pacing ones to be the most beneficial.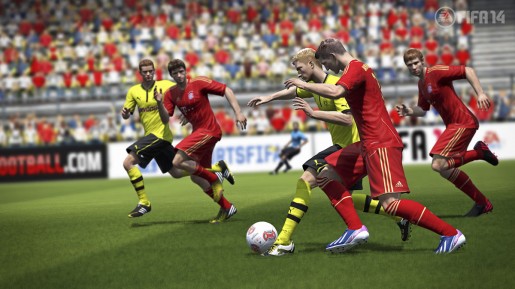 NOTs
Substandard 12th Man
Taking a quick glance towards the crowd and you are reminded that next gen isn't quite here as of yet. Hopefully on the PlayStation 4 and Xbox One versions of FIFA 14, when the consoles have more power and better graphics, this issue will fade into the past alas it has remained a haunting problem on this generation. They sound great chanting away but they look as if they have just been copy and pasted from a game that is 5-10 years old. To make matters worse, the cameras are openly zoomed in on them during times such as penalties and it detracts from the overall look of the game. EA Sports please fix this in time for FIFA 14 on the next generation systems!
Server Connection Issues and Lag
The better your internet the better time you will have on FIFA 14. The odd rage quit would be understandable but it is clear at times that an opponent has not left out of choice. This has been the case a couple of times when I have been losing 2-0 and the other player has lost connection to the match. As the gameplay is so fast-paced and with split seconds counting even more than before, it is a shame when lag spoils an otherwise enjoyable game. Thankfully with internet only getting faster this issue will eventually disappear but it would be nice to see EA actively trying to combat it. Connecting to the EA Sports servers can also be an issue even on fast internet speeds. Occasionally it has been the second or third time of attempting to log in for it to work. Whether this is due to the initial rush of players or something to provide issues in the long run it fails to be seen, nevertheless if previous installments are to go on the servers will never be great.
Verdict
FIFA 14 once again takes features introduced prior in the series and improves upon them. Tweaking a number of aspects of the game FIFA 14 does the job of being different from its predecessors. Most different is the speed of the gameplay. Personally, I enjoyed the new quickness to the passing. This being said, it is not for everyone but within a few games it does start to feel natural and playing FIFA 13 again I couldn't help feeling it was rather slow. Most FIFA fans will be pleased with this year's title and it certainly does the job of offering a solid presentation and gameplay experience. On top of that those who would normally complain that nothing has changed are surely silenced at least for this year.
[Editor's Note: FIFA 14 was reviewed on the PlayStation 3. The game was provided to us by the publisher for review purposes.]
FIFA 14 (PS3/Xbox 360) Review

,