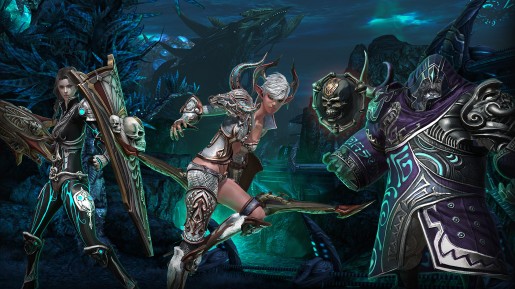 Over a year following the release of TERA, En Masse Entertainment has finally announced that a big content update will be coming starting September 10th, where four new dungeons will be introduced.
The upcoming update is called Dungeon Assault where players will be introduced to four deadly new dungeons, new game modes, challenges, rewards and a new tier of gears. Are you wondering what dungeons will be included in this game update? Here's En Masse's content overview:
Wonderholme

Type: 10-player co-op adventure
Key features: Discover twisted new enemies, new bosses, and unique game mechanics in a castle of wonder.
Description: A lethally whimsical castle that appeared from nowhere has drawn researchers from across the land. Unfortunately, the Bandersnatch, ruler of Wonderholme, has taken the head researcher hostage, and the Mysterium Council is offering a substantial reward for her rescue.

Channelworks

Type: 3-player sewer mission
Key features: Fight fiendish traps and monsters through the underground tunnels and uncover the hidden treasures of the Channelworks.
Description: Deep beneath the Veritas District, a series of aqueducts maintained by automatons supply water to the western deserts of the world of TERA. The Channelworks has been invaded by violent monsters, and the automatons are powerless to stop it.

Kezzel's Gorge

Type: 7-player tower defense
Key features: Race against the clock to stop the giant using an assortment of environmental traps.
Description: Shipments passing through the forests of Frontera are falling afoul of a brutal giant with a taste for magical ore. As wagon after wagon disappears down the giant's gullet, the caravan leader calls for help.

Shattered Fleet

Type: 5-player BAM beatdown
Key features: Defeat BAMs on a series of wrecked, unstable ships; defeat Barbosa and his crew to recover the cargo and claim rare drops and Zenith treasure chests.
Description: The federation's latest noctenium shipment has run aground off the Jagged Coast, and the rescue party's last report mentioned BAM sightings aboard the derelict ships.
TERA: Rising is now free-to-play with an option to subscribe for some exclusive perks. For more information, check out the TERA: Rising official website.