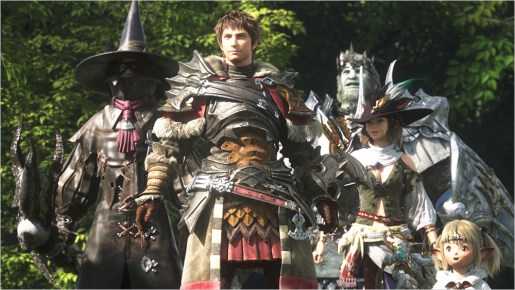 Classic Final Fantasy Feel
When playing this game, there is no doubt that it is part of the Final Fantasy franchise down to its core. In fact, it's the most classic Final Fantasy-like game in many years. Unlike many others, I really enjoyed Final Fantasy XIII and Final Fantasy XIII-2, especially the latter, but they still did not quite capture that classic Final Fantasy essence. The key difference is that those two games had a more futuristic look and feel to them while this game sets in with games more like Final Fantasy IX and Final Fantasy XII in style, which were callbacks to the older games in the franchise.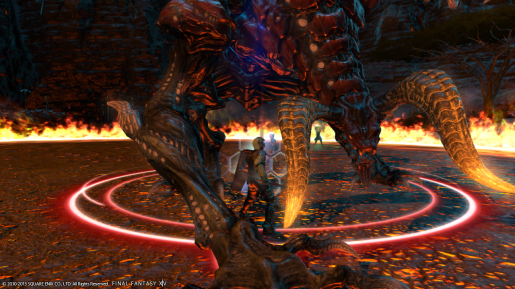 I'm not saying that futuristic-like games are a problem, as I adore the very different Final Fantasy VIII, but it is nice to see a return in style just to mix up the formula in recent games in the series. It's not just the setting either, as pretty much everything in this game exudes Final Fantasy. From the familiar enemies to the number of weapon and equipment at your hands, this game gives you the ultimate Final Fantasy experience.
Challenging Primal Battles
One of the things players will have to do after finishing the main story arc is to take down the three Primals that everyone got to fight earlier in the game. These three Primals will require patience and coordination, which makes it very challenging. For gamers who are interested in getting the most powerful weapon out in the game, taking down the three Primals for end-game will be your task. Just be patient and make sure to find a group that listens well and cooperates.
NOT
Quest Repetition
As said above, one of the best elements of the game is the abundance of quests available. However, at times, those quests can begin to feel very repetitive, especially in a very long gaming session with Final Fantasy XIV: A Realm Reborn. A number of the quests will be simply walking from the quest giver to another NPC. These are fine in moderation, but it is much better when there is more to them, such as having to find multiple people to talk to in a certain section of the map.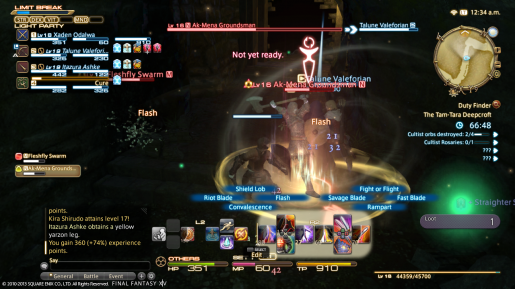 Probably the quests I enjoyed the least while playing were the Levequests that you get assigned by Levemetes. Most of the time these quests give you less experience than the other normal quests around them, and at least as a Disciple of War, were always something where you had to go to a specific area in the overworld and fight some enemies. Unlike other quests, there is a timer to these quests once initiated, but I never came close to running out of time. There is actually a daily limit of Levequests that you can do, but I honestly got tired of them before I ran out after I realized I could spent that time on other quests obtaining more experience anyways.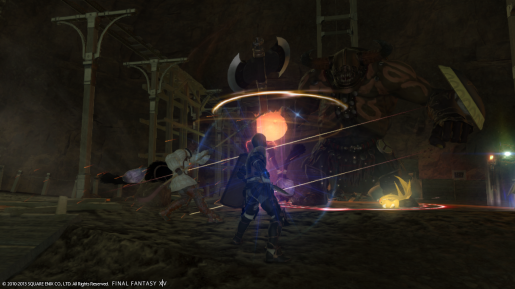 Combat Tedium
While the easy to learn gameplay, as discussed above, is a very big positive of the game, that doesn't mean that the combat is perfect. This level of simplicity sometimes can make battles almost boring, especially when you are fighting one after the other. When fighting enemies that you have no worries will kill you, there will be a lot of button mashing occurring. I know there were times that I would choose a target and start hammering away with attacks and look at my computer screen to read something during combat. It is fine in smaller doses, but when you are playing for a couple hours, it can begin to feel very tedious. Luckily there are the unique boss battles to offset these lesser fights.
Lack of End-Game Dungeon
The path towards level 50 is a very fun experience in Final Fantasy: A Realm Reborn. Compared to the first version that flopped several years ago, A Realm Reborn made sure that players will get to the end-game by doing a complete overhaul of its gameplay offering players a lot of variety in questing and gaining experience points. Since the end-game of every MMO is what everyone has been looking forward to the most, A Realm Reborn gave us a mixed feeling in terms of the content.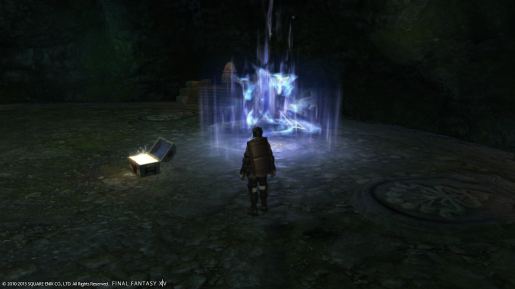 While grinding is indeed fun at times in a MMO, Final Fantasy XIV makes it somewhat disappointing due the lack of ways to grind for gear. As soon as you complete the story arc and have reached level 50, players will find out that there are only four level 50 dungeons for everyone to grind; The Wanderer's Palace, Castrum Meridianum, The Praetorium and Amdapor Keep. From those four dungeons, only three will really be the dungeons that players will run through since The Praetorium is a long one and it's very rare for level 50 players to go through it again. At first, grinding in those dungeons may seem fun, but after finding out that players need at least twelve runs of level 50 dungeons to get an end-game chest piece, players can expect to be burned out from running Castrum Meridium (the dungeon that gives out 100 Allagan Tomestone of Philosophy, and an ideal way to grind for tomestone of Philosophy).
Currently, there are two kinds of end-game gear sets; the Philosophy and the Mythology gear. The top tier gear, which requires Mythology tomestones, will at least require everyone to grind for at least six months to get the full sets since there's a cap of 300 every week and the amount of tomestones required to redeem a piece of gear is insanely high. Players who are seeking to get the full set of mythology gear will most likely have to spend 6 months worth of subscription to be the best in your server.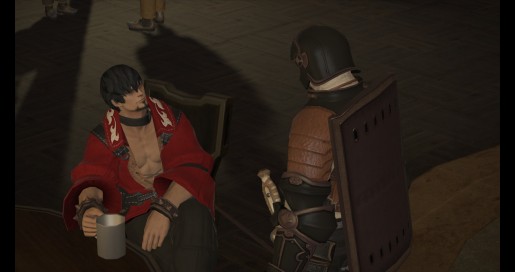 Assuming that everyone is geared or have at least the full Darklight Gear (Philosophy), there's one more dungeon that players will get to access and currently, it's insanely impossible to finish all five turns of Coil of Bahamut. Since people are having a hard time farming for Mythology tomestones to get their top tier gear, finishing Coil will most likely not happen until everyone have at least half of the Mythology gear.
Designs of Armors Are Bland
One complaint that we have in Final Fantasy XIV are the lack of designs when it comes to armor. For every class, the designs that everyone get to wear almost looks identical, even the end-game dungeons. When everyone reaches level 50, they will get their job gear and alone will make everyone think they have a cool looking ones. After that, the gear that you will get for end-game will once again look similar. Both the gears you get in the final job quests and the Mythology sets, players will be disappointed to see that they didn't change much. Give the game two more months and you will see the Revenant's Toll, the end-game hangout place for level 50 players, to look very similar to everyone, which makes the game somewhat boring.
VERDICT
After the debacle that was the initial launch of Final Fantasy XIV, Square Enix has really stepped up its game with Final Fantasy XIV: A Realm Reborn. By creating such a giant and lively Eorzea, it will take you quite a long time to run out of things to do. From an abundance of quests to innovative boss battles, Square Enix has improved on pretty much everything that was wrong with the original release. This game almost feels like a love letter to the fans of classic Final Fantasy that many feel has been missing for awhile now in the series. I probably don't even want to know how many hours I have logged on this fantastic game over the last month, but I know I don't regret one second of it. I've tried some MMORPG's in the past, but A Realm Reborn is the first one that has really been able to grab me. This game is certainly worth the monthly price of admission, even in a world where many MMOs have chosen to go free to play. All I know is that I absolutely cannot wait to see what Square Enix plans on adding to the game moving forward.
[Editor's Note: Final Fantasy XIV: A Realm Reborn was reviewed on the PlayStation 3 and PC platform. The game was provided to us by the publisher for review purposes.]
Final Fantasy XIV: A Realm Reborn (PC/PS3) Review

,