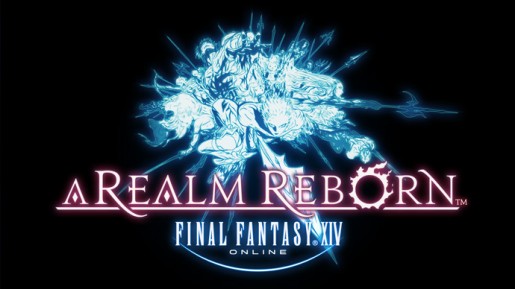 Final Fantasy XIV was Square Enix's second attempt at an online Final Fantasy game after the success of Final Fantasy XI. However, the launch held many problems and eventually had to be taken down for a relaunch that eventually became Final Fantasy XIV: A Realm Reborn. The game has now been out a little over a month.
With Square Enix putting so much work into making this game a success, the big question is whether A Realm Reborn truly is a major improvement on the original or another disappointment?
HOT
Giant World to Explore
One of the worst things a game can do is be overly repetitive in the locations you visit. Luckily, Final Fantasy XIV: A Realm Reborn has such a large and lively overworld that never gets old. Of course you will be going back to many of the same locations, but even when you are in your higher levels, you are constantly finding yourself arriving at completely new locations while playing through the main story, unless of course you were just exploring everything on your own.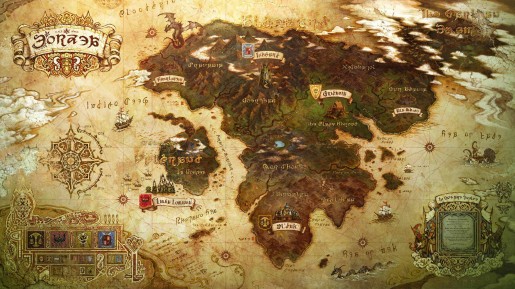 This gets even better once you unlock a mount through the main story, as you can travel far and wide at a much quicker pace. As the environments are beautiful throughout the different locations, I know I sometimes spent time just aimlessly wandering around the map seeing what I could find. Of course sometimes you will step into the wrong area with much higher level enemies and be killed almost instantly. This makes you want to come back once you level up even more to get your revenge.
Abundance of Quests
While playing Final Fantasy XIV: A Realm Reborn, you will learn very quickly that there is no shortage of quests for you to do. There is the main story that is very easy to keep up with, as every time you finish a main story quest, you will get the next one from the person that ended the previous quest, or at least someone right nearby. Then you have the immeasurable number of random quests scattered all throughout the world of Eorzea. It is hard to miss that exclamation point in a circle on your map as you are traveling around, so you should have no trouble coming across new quests. They are also scaled in difficulty level and experience payout, usually based upon your location and where you are in the main story quests. This helps you to level up as needed to access the next story quests.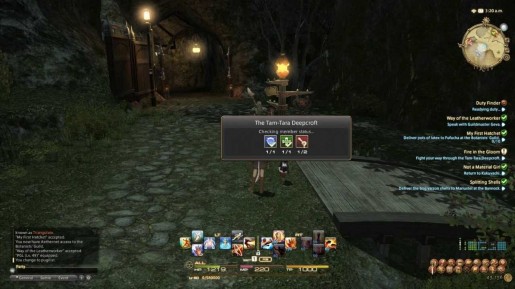 Easy to Learn Gameplay
Once you get past the creation of your character and all of the introduction scenes, you will start to find some quests to do. This will likely lead you to your first combat in the game. Very quickly you will see just how simple and easy it is to learn combat in Final Fantasy XIV: A Realm Reborn. Most of my experience with the game over the month or so has been on the Playstation 3 version, in which I used the controller to control everything.
As you level up, you will obtain new abilities that will automatically be added to your hotbar, which will be your best friend in this game. You can fully configure your hotbar anyway you want at anytime. There are multiple hotbars that you can scroll through through the use of the R1 button, so whatever you want to put on them can be at your fingertips whenever you need it throughout the game. In my case as a Gladiator, all I had to do was choose a target and pick my attack to use from my hotbar. Of course a Conjurer will find a little more complication when needing to heal their teammates, but it is still made fairly easy.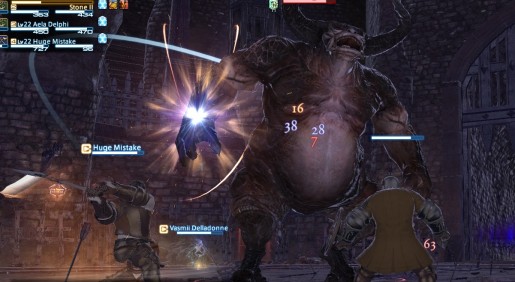 Unique Dungeon Boss Battles
While the regular battles throughout the game can get a little tedious, which I will go into further detail later, the dungeon mini-bosses and bosses really stand out as a result of the battles themselves. While most of the battles throughout the game are pretty straightforward with you attacking until the enemy is dead, some of the mini-bosses and bosses mix up that formula with fights that require a good bit of strategy. One of the best examples of this is both the mini-boss and boss found in the Halatali dungeon. In both battles, you must be mindful of the fire-based adds that will join the fight and affect both battles in completely different ways.
These types of battles require communication between your team, whether it is people you already know or completely random strangers that you get paired up with. For those that are just starting to play the game, I highly recommend everyone on your team stand outside the mini-boss and boss rooms before every one of them strategizes. Often, there will be a member on your team that has played through this dungeon before, that can warn you about the perils of each battle, which is very helpful prior to the fight.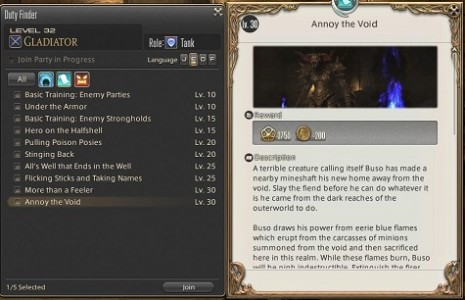 Duty Finder
As you continue through the game, you will have no choice but to try out the Duty Finder when you try a guildhest or a dungeon. By gaining access to a dungeon, you add that dungeon to your Duty Finder, which allows you to find a group to tackle it with. The best part is that once you have the dungeon added to your Duty Finder, you can choose that specific one from anywhere on the map to try to find a group. If you do not get matched up with a group immediately, which does happen sometimes, you can continue to do whatever else you want and it will pop-up on screen to let you know once it happens.
This seemingly little addition to Final Fantasy XIV: A Realm Reborn makes playing the game so much easier, especially when you decide to replay a dungeon for experience when you are nowhere near the dungeon itself. I can't really compare this feature to many other MMO's, as I haven't played a great number of them. However, I do know that the feature was much better to me than the Group Finder in Star Wars: The Old Republic as it was focused on specific areas where it was most needed, even if there wasn't any customization.
Final Fantasy XIV: A Realm Reborn (PC/PS3) Review

,