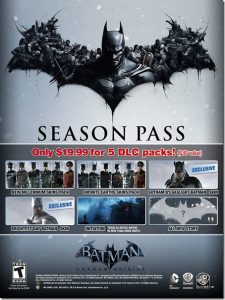 Warner Bros. announced today that Batman: Arkham Origins will be getting a Season Pass when the game launches later this October.
The Batman: Arkham Origins Season Pass will be available at launch for $19.99 and grants purchasers access to five of the game's upcoming downloadable content packs, one of which includes two exclusive skins.
Players who purchase or pre-order the Season Pass will have access to the following content:
· Gotham by Gaslight Batman™ Skin and Brightest Day Batman™ Skin
· New Millennium Skins Pack
· Infinite Earths Skins Pack
· Arkham Origins Initiation: Play as Bruce Wayne before he became Batman™, and face his final test to prove himself worthy to his greatest teacher, Kirigi.
· An all-new story campaign
Batman: Arkham Origins will be available on October 25, 2013 for the PlayStation 3, Xbox 360, Wii U, and PC.