Very Challenging
The XCOM series is known for its very challenging gameplay and luckily, The Bureau adopted that aspect. Through the story missions, expect combat scenarios to increase in difficulty. When it comes to third-person shooters, many assume that it's simply just shooting and taking down enemies without putting any strategic thoughts to it. The Bureau is different as the game encourages you to really plan out your attacks. One wrong move and it can cause you to lose an agent. One aspect of the game that really drive up the difficulty is the permadeath of accompanying agents. If you let an agent die in the field they will be gone forever. Eventually you are able to pick up a new agent, but they have to be leveled again. This is the driving force that ensures players think before they act, lest they wish to lose an agent due to a careless decision.
NOT
Technical Problems
Console gamers can expect the game to give frequent screen tearing. Every time you see a cutscene or move from one place to another during an engagement, you see screen tearing popping up. It can look annoying, but its tolerable as mostly console games are like this. Since 2K didn't provide us the PC version of the game, we're not sure how it looks on PC, though it's safe to assume that it's a lot smoother.
In addition to screen tearing, glitches pop here and there. At some point in the game, you will see characters floating randomly or sometimes a NPC passing through you. These glitches don't really break anything in the game, but they are bothersome although slightly amusing. Aside from screen tearing, texture popping are prevalent throughout the game. Every time you get to a new area, you will not see the whole environment right away. It will start off as a bare environment, but as soon as the textures load up after a few seconds, it will then show the game's environment. The frequency of this happening is every time you get to a new area. Not to mention, you will hear audio cutting out most of the time in cutscenes, which makes you wonder if it's done on purpose as part of the effect.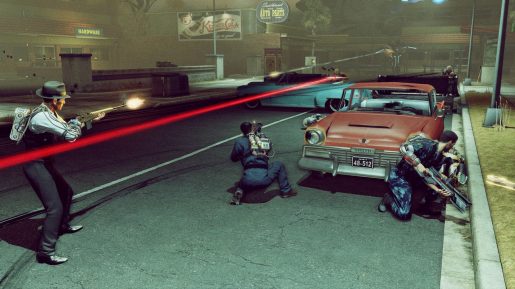 A.I. Not as Good
Being a tactical third-person shooter, it's expected that the team in your group follows your every command. In the Bureau, not every one of your agents will be as obedient. Whenever you give a certain command to the group, like regrouping, they follow you, but then proceed to go back to where they were originally after a few seconds. Stuff like this can really get to you, especially when you're in the middle of an intense engagement, as the A.I's inability to follow your command can lead to the death of an agent.
Limited Customization
The Bureau is very limited in its customization. As mentioned earlier, you are limited to two agents that you can bring in every mission. Whenever you pick an agent, you have an option to customize their look and equipment. Cosmetic wise, the options were okay, but when it came to gearing them up, that's where the game fell short. You are able to customize weapons and the backpacks that they are able to wear. Within each backpack, they have unique abilities but since you can only wear one, it's hard to pick which one is the best since it has several effects that may or may not work well in battle.
Another issue that I found in The Bureau is the lack of weapons. Players who are looking for a variety of weapons that they can equip will be a tad disappointed. As you scour the different locales of The Bureau, you will notice that the weapons you will find are lacking. The common pistols are there, M4, a sniper rifle and one grenade type launcher. Aside from these set of weapons, there is another set and they will be from the Mosaics that you will encounter, though they will be as limited as the ones agents normally using. They have one of each kind, which pack the same power when used against the enemies.
Doesn't Feel like XCOM
If you've played XCOM: Enemy Unknown and are looking for the same kind of experience in The Bureau will not find it in this game. From the time you start playing the game until the very end, you will see very little of its XCOM elements aside from the world and lore. The gameplay makes you feel that it's more of a shooter game than a strategy game. Yes, it has a tactical side to it, but it's not as in-depth as the ones in XCOM. This title would have been better off without the XCOM title.
VERDICT
After almost a decade of being in development, it's sad to say that The Bureau: XCOM Declassified isn't as good as everyone wanted it to be. As a shooter game, it managed to perfectly capture everything that fans have loved in a Mass Effect games – the cover, the combat, the squad-based system and the dialogue — but when it comes to staying true to its XCOM roots, that's where the game fails. Overall, as someone who enjoys shooter games, you should consider picking up The Bureau as it has some good qualities that I'm sure many will find enjoyable, especially the challenge it packs. For those who want a true XCOM experience, I'd recommend passing on this game as it is more aimed toward the shooter crowd than those who fell in love with the series' tactical gameplay.
[Editor's Note: The Bureau: XCOM Declassified review was reviewed on the PS platform. The game was provided to us by the publisher for review purposes.]
The Bureau: XCOM Declassified (PS3) Review

,