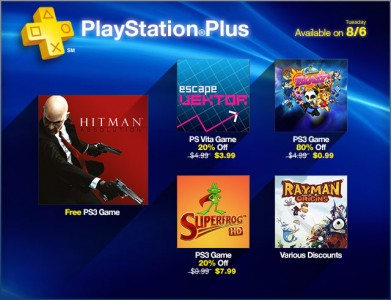 Sony in North America announced today the batch of free PS3 and PS Vita Games PS Plus members can play this August.
If you are a PlayStation Plus subscriber, you will be able to get the following games for free this month: Hitman Absolution (starting tomorrow), Machinirium for the PS Vita, Star Wars: Pinball, Darkstalkers Chronicle on PSP, and Bit Trip Runner 2. From the list of games they revealed today, only one game stood out and that's Hitman: Absolution.
When the PlayStation Store updates tomorrow, PS Plus members can download Hitman: Absolution for free. In addition to the free game, members can also take advantage on game contents at a discounted price: all of Rayman games (Origins on both PS3 and PS Vita, Rayman 3 HD, and more).
For the full list, check out the post on the PlayStation Blog.