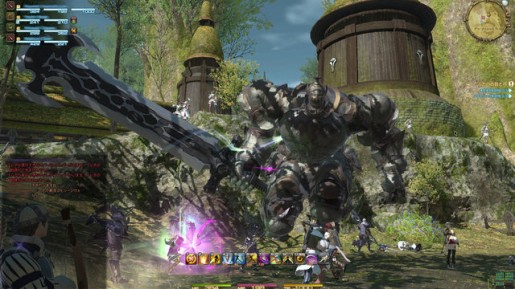 Three years after its initial release, Square Enix is still working to try and make up for the initial Final Fantasy XIV release in time for the release of Final Fantasy XIV: A Realm Reborn. To help with this, they have now announced a Welcome Back Campaign, Veteran Rewards, and a World Transfer System.
The Welcome Back Campaign will allow all players who have registered an account with Final Fantasy XIV to play the game for free until September 9. Anybody who registers between the release of the game and September 9 will get free play during that period of time. Starting on September 10, players will have to pay a subscription fee. However, you can use the 30-day trial that comes with the game starting on September 10, and then choose to subscribe after that ends.
The Veteran Rewards are special in game bonuses that you will get based on how long you have had an active subscription with the game. As of right now, there are three ranks of awards announced, after 30 days, 60 days, and 90 days. The rewards will be delivered by the moogle delivery service based on how long you subscribe to the game. For example, if you subscribe for 90 days in advance, you will receive all six rewards on your first day playing. Rank 1 (30 days) will give you a Wind-up Cursor Minion and Fantasia. Rank 2 (60 days) will give you a Black Chocobo Chick and Cascadier Uniform Voucher. Rank 3 (90 days) will give you a Beady Eye and Voidal Resonator. After the game's launch, there will be further rewards for beyond 90 days.
The last bit of news today is that there will be an optional paid World Transfer Service in the game. This allows someone with a service account on Final Fantasy XIV: A Realm Reborn to transfer to any other world in the game, as long as that world's population isn't too full. You can transfer items, gil, and retainers to the new world, but linkshell free companies, and friend lists will not be transferred.
Stay tuned for further information on these announcements as we learn more with the game's release date approaching. Final Fantasy XIV: A Realm Reborn will be available for PC and Playstation 3 on August 27, with a release on Playstation 4 in 2014.