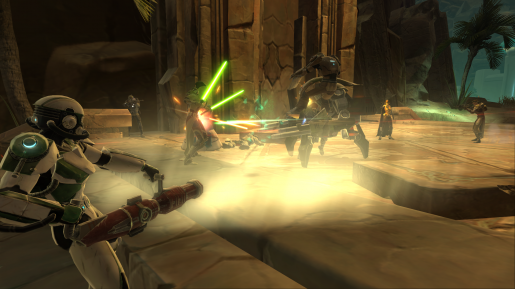 It looks like subscribers of SWTOR will once again be disappointed as the promised "second subscriber appreciation" reward that was promised in July will no longer happen.
When BioWare announced that they will do some sort of an appreciation rewards to their subscribers, they promised they will do it twice. First was with Cartel Coins and unfortunately, the second "reward" will no longer happen due to the "technical hurdles" the team have faced.
Here's the statement of Eric Musco, Community Manager of Star Wars: The Old Republic:
Hey folks,

It was our plan originally to have a second subscriber appreciation occur at the end of the month along with our Cartel Coin grant you received in the beginning. Unfortunately we hit some tech hurdles and that is no longer the case. As always, we are going to continue to look for ways to show appreciation to you guys and ensure there is strong value in your subscription!

Sorry for any confusion.

-eric
While subscribers will get pissed with this news, at least give BioWare one more chance to show that they really value their subscribers. Hopefully the next time they will do this "subscriber appreciation reward", have at least something that is worth while that will not involve the Cartel Market. Until then, subscribers like me will keep on waiting for the day you give us something awesome.