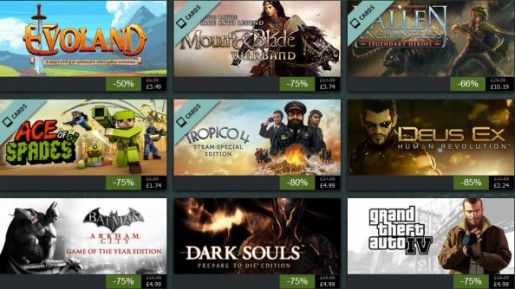 On its 7th day of Steam Summer Getaway sale, new games are once again available where players can take advantage of great PC titles at such low prices.
Gamers who are looking to save big bucks on hit games like Grand Theft Auto IV, Dead Island: Riptide or Batman Arkham City, now is the time to get those wallets out as they are among the games that are on sale. How does Deus Ex: Human Revolution for $2.99 sound?
Well, here is the list of games that are on sale today on Steam. For the full list of the games, head over to your Steam client.
– Grand Theft Auto IV, $4.99
– Deus Ex: Human Revolution, $2.99
– Batman: Arkham City, $7.49
– Mount & Blade Warband, $4.99
– Evoland, $4.99
– Ace of Spades, $2.49
– Dark Souls: Prepare to Die Edition, $7.49
– Troppico 4, $5.99
– Fallen Enchantress: Legendary Heroes, $13.59
Don't forget that there are Flash Sales as well, where games will only be on sale for eight hours. At this moment, the following games are on sale:
– Gunpoint, $5.49
– War of the Roses, $4.99
– LEGO Lord of the Rings, $7.49
– Left 4 Dead 2, $4.99