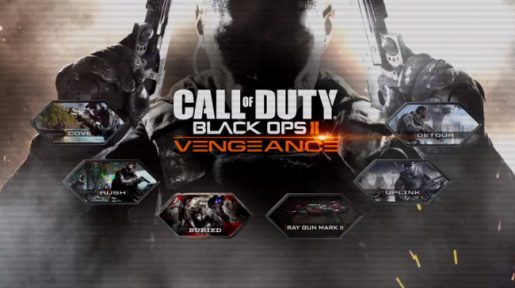 Activision is pleased to announce today that their much anticipated Vengeance DLC for Call of Duty: Black Ops 2 is now available for download via the Xbox live Marketplace.
Similar to other downloadable contents for Black Ops 2, the Vengeance DLC will carry the price of $14.99. Those who have a Season Pass can download the new DLC pack for free while non-season pass holders will have an option to buy it separately. In Vengeance DLC, four new multiplayer maps will be delivered along with a new zombies mode called 'Burried'. As a recap, here are the details of the four multiplayer maps available today:
"Cove," – The stage is set for all-out conflict on this small, forgotten island in the middle of the Indian Ocean, with players battling it out amongst the wreckage of a jet that crash-landed during a smuggling operation gone wrong.
"Detour," – The action plays out atop a destroyed suspension bridge, high above an East Coast waterway, packed with scattered vehicles, exposed iron and collapsed pavement enables head-to-head action playing out on multiple levels.
"Rush," – Prepare for fast, close-quarters engagements in this paintball course turned full-combat arena, giving players new opportunities and challenges to use the cover to their advantage.
"Uplink,"- In this re-imagined adaptation of the fan-favorite multiplayer map "Summit" from the original Call of Duty®: Black Ops, players clash deep in the rain-soaked jungles of Myanmar, high atop a hi-tech mountain facility.
Currently, Black Ops 2: Vengeance DLC is available first on the Xbox 360. PC and PS3 version will follow a month later.