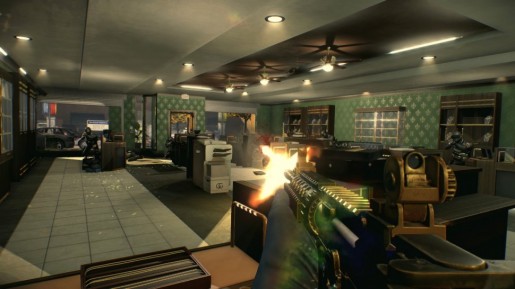 Remember Borderlands? Critics went on about its beautiful blend of RPG elements and first-person shooter gameplay. Following my hands-on with Payday 2, I'm convinced that OVERKILL's sequel could be the next great RPG hybrid and here's why:
Randomly Generated "Dungeons": In Payday: The Heist, players quickly became aware of the semi-random law enforcement patterns and spawn points. Payday 2 overhauls this system by completely randomizing entire aspects of the map. Did you begin to memorize the camera layouts in the first game's levels? Say goodbye to that. Not only will camera placement be randomized, so will the number of cameras present in a level. This should provide a grand challenge for seasoned veterans. Furthermore, civilians will appear in different areas. You may find that you effortlessly robbed a bank on your first attempt and completely failed the second time due to a person watching from the window of a nearby apartment complex. Players will have to be thorough in their search and planning in order to overcome the ever-changing circumstances.
A Robust Leveling System: This isn't the Call of Duty leveling system. You will pick one of four skill trees to invest in — Mastermind, Enforcer, Technician and Ghost — each with their specific combat focuses. Depending on your preferred playstyle, you can become an unstoppable, armored brute or an agile, silent killer. The bonuses range from weapon boosts, reduced reload times and, most importantly, class-specific perks, such as the ability to pick locks to gain access to new entrances. There are 100 levels (yes, the level cap has been reduced) to work through, so you should have plenty of points to invest in your preferred approach.
Limitless Customization: OVERKILL is letting players leave their mark on the game by providing them with a whole new level of customization. There are around 60 masks to obtain in the game and each can be altered in one of three ways: material, pattern and color. So, for example, one could take the Anonymous mask, lay some jean material over it, throw tribal markings around it and select primary/secondary color schemes. This will lead to players being able to craft unique masks that are not only sure to terrify the locals, but help them stand out in the community. Guns can also be heavily modified with attachments and paintjobs.
Defined Rolls and Stat Management: This time around, the player has to deal with various stats and find a way to balance them. Concealment is one of the most important stats. If you decide to throw on full tactical armor and deck out a heavy shotgun with all the goods, chances are your concealment stat is going to drop dramatically. People are going to immediately recognize that you're a threat when you walk through the front door of a jewelry store wearing bomb squad body armor and carrying a massive firearm on your back. To increase concealment, you'll have to make some trade-offs. Maybe you wear just a suit or a concealable bullet-proof vest and arm yourself with some small, silenced weapons. This should allow you to walk around without attracting too much attention. Of course, weapons have their own individual stats you'll want to reference when deciding on how to approach the situation. Efficient groups may send in a silenced, unarmored (suit) player into the back door of a building to scout and silently take out the opposition. When they're ready to go loud (assuming they need to) the heavily armored robbers will walk in. What will ultimately happen is you'll see people falling into one of three groups: tanks, rogues and crowd control.
Loot, loot and more loot: The gang doesn't start off with access to all of the masks, materials, colors and weapon attachments. If they want to wear the best, they have to earn it. Each successful heist will end with the player choosing one of three playing cards. The card you choose will have a randomly generated piece of loot attached. This could be a rare mask, a new sight for your weapon or simply a new color to use when customizing your gear.
Payday 2 is an exceptional shooter, but it should also be noted that OVERKILL's tweaks to the formula have aligned the game with the RPG genre as well. What do you think of these changes? Are you and your friends ready to take on the game's 30-35 missions starting day one? Let us know in the comment section below.