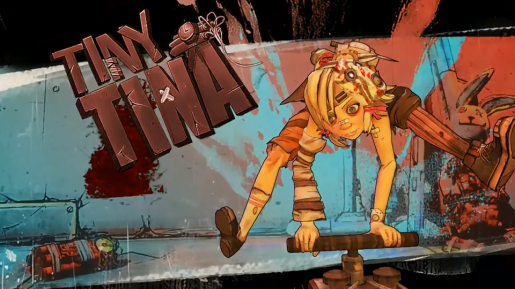 E3 is a great place to get answers straight from the source face-to-face and lucky for us, my Borderlands 2 contact was more than eager to answer my question regarding the new DLC, Tiny Tina's Assault on Dragon's Keep. I have brought you all I have uncovered below.
How long will Tiny Tina's Assault on Dragon's Keep take to complete?
The DLC's campaign will take around 6 to 7 hours to finish. This total is bumped up to 10 hours when the side quests are factored in.
During my demo, I fought off a wide variety of new enemies. How many new enemies are there? And are there any notable opponents you're excited about?
There are plenty of new enemies appearing this time around. In fact, there are 11 new enemy types with 71 variants. As for personal favorites, I'm a fan of the Orc Warlords. When their heads turn red and they scream, they can level up, similar to the Goliaths. Also, their battle cry can buff other nearby enemies.
I noticed the loot chests had twenty-sided die sitting on top of them. Are probabilities actually calculated and is the loot impacted by the outcome?
Yes, definitely. By opening the chests normally, you'll only roll a single die. If you use 5 Eridium, you can roll both die. If you were to roll two twenties, you'd be looking at Legendary level gear.
Tiny Tina's narration was a joy to listen to. While she was structuring the story, I heard Krieg yell some fairly random comments in what seemed to be a response to her story choices. I can never tell what that guy is saying. Do the Vault Hunters have new dialogue?
It was something that we got a lot of fan feedback about. People wanted to hear more from these characters. The Vault Hunters will comment on the action from time to time and it is all new dialogue.
Lastly, I must ask: Who is developing this add-on content?
Assault on Dragon's Keep is all done internally. We haven't handed the work to another team.
That is apparent in both the quality and humor. I can't wait to play more and I'm sure the fans can't either.