Ever since Monster Hunter found a new home with Nintendo, gamers have been looking for something to fill the void for the Vita. In Japan, the Monster Hunter series has been quite a system seller, which typically results in sky rocketing sales. To fill the void left by the lack of the monster hunting genre on the Vita, Infaune has decided to bring his own version in the form of Soul Sacrifice. Having similarities to the Monster Hunter series, does the game have what it takes to motivate fans of the genre to pick up a Vita or is it another game with expectations it can't quite meet?
Let's take a look on what's HOT and what's NOT in our review of Soul Sacrifice.
HOT
Interesting Tale
One thing I dislike in the Monster Hunter series is the lack of story where it's almost non-existent. In Soul Sacrifice, there is a story that is somewhat engaging, although it's not going to win any awards. The game starts off in a hellish prison environment where players will see a series of characters getting killed by a ruthless mage named Magusar. After countless other people who attempt to kill Magusar die, it's now up to you to take on the challenge while being imprisoned in his domain. Through a mysterious book that speaks called 'Librom', you must read through the contents of the book as it goes over the past sorcerer's story that might bring hope and a clue on how to beat Magusar.
In the several chapters of the game, you will go through a storybook narration where you'll relive the past life of author. All text has voice-overs and despite showing an actual scene, the story will be conveyed in such a very emotional way.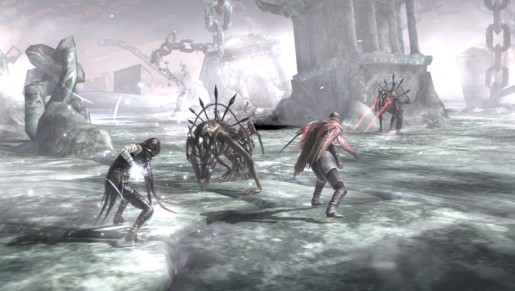 Collect Offerings
Instead of having the drive to finish the game by collecting rare armors like in Monster Hunter, Soul Sacrifice will be different. Everything in the game is magical and the way your character will fight is through magic called 'offerings'. At every level that you finish, you gain an 'offering' that you can equip and use in battle. Up to six offerings can be used and as you progress through the game as you can level it up to make it more effective in battle, or fuse it with others to create a far more unique one. To get more of a rare offering, certain conditions must be met such as doing certain things while fighting enemies. For every level that you play, you will be rated through points and at the end of each level, the points that you earn will be calculated.
Customizing is a big thing in Soul Sacrifice as what you equip will determine how you perform in battle. If at some point you don't have the offering you need, you can replay levels to farm them. Every time you use an offering, they get depleted. Luckily, there will be certain sections in the area where you can restore the offering's power. Always stay on the lookout to the environments by activating the Mind Eye as there are certain things within that can help you like giving you an additional armor, restoring offerings, and give you items.
Tough Bosses
On the first chapter of the game, you will be given the impression that the game is easy. While that may be true, the real challenge arises when you are nearing completion of a chapter. At the end of each chapter, a tough boss will be awaiting you. Unlike in Monster Hunter games where you simply just hack and slash your way to take down monsters, you will have to plan your strategy in Soul Sacrifice. Since there are a lot of available offering elementals, certain ones will work best for each boss. It's imperative for each players to take note of their weaknesses. If the boss seems to have an affinity of fire, using an ice or water offering instead.
Soul Sacrifice (PS Vita) Review

,