NOT
Not Much Variety
Outside of the tests of faith, God Mode doesn't actually have a lot of things to do or see. As mentioned above, there is only one mode (hoard), which can be done online or offline with friends or by yourself. From here you're given a selection of 5 stages to play through, though the main difference is visuals. You can also select a higher or lower difficulty, but the only notable difference is the type of tests you need to complete. Once you start a match, you'll quickly notice that there are like 8 different types of enemies, which come in a few different forms. This doesn't really make a difference considering the nature of the game, though every enemy has a weakness/element that makes them special.
Besides the lack of enemy diversity, there isn't much in way of character customization. Like a lot of online shooters, God Mode features a level system and includes a store to buy various things. Among them are customization items, although most of them rehash the same designs in a different way. This is painfully obvious when looking at heads, since the same faces appear for each set. Let's say there are 9 different faces in the game, then each head item would have a version with that face. That doesn't stop you from customizing your character through the various opinions, but it does limit your choices.
Lack of Explanations
When I first leveled in God Mode, I saw various icons light up under my name and I assumed I was more powerful or at least unlocked something. While I did unlock something, it was merely the right to buy a better gun or upgrade on an existing gun. Even this would be okay if there was an ! icon next to the customization area, but there isn't even that. Worse yet, you can only access the customization area before going into a match, so it's entirely possible that some people might never realize they can make their character more powerful, especially since that's how you actually obtain God Mode.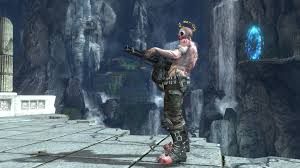 Online is Dead
Despite April being a slow month for games, it seems people are just not interested in God Mode. This got so bad that I couldn't find a game at certain times of the day and other times I would run into the same people "randomly" two or three times in a row. It also seems like the higher two difficulties are completely devoid of people, since I was only able to find a match for gold (hardest) one time. Hopefully more people will play the higher difficulties in the future, although you might need to make some friends to actually experience them.
VERDICT
While God Mode has some problems, it's still a pretty cool game. The trials make the experience a lot more exciting, and the ability to set oaths (debuffs) can give you some extra thrills. However, keep in mind that there just aren't many people playing and it's hard to say if this game will ever have an active community. Regardless, God Mode is an enjoyable experience if you're not looking for more than a mindless shooter.
[Editor's Note: God Mode was reviewed on the PlayStation 3 platform. The game was provided to us by the publisher for review purposes.]
God Mode Review

,