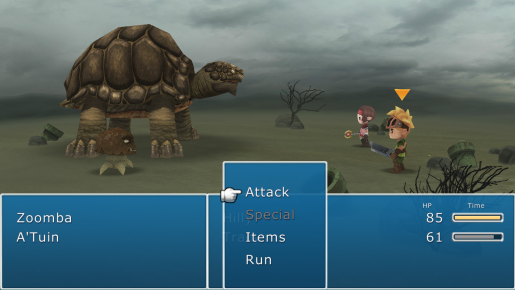 Combat and Boss Fights
The combat varies throughout the title along the same lines as the presentation. Travelling across the overworld battles are like those seen in Final Fantasy with a turn based system. However, when wandering around the rest of the game, the gameplay is more akin to that seen in Zelda titles. The first boss fight will see the player tackling the boss in a Final Fantasy style battle, like fights on the overworld. Later boss fights are more action based fights where the player must move the character and attack at the right time, during attack cycles from the boss. This variation splits the game up, resulting in two very different speeds. Nevertheless, switching between them keeps the gameplay fresh, as neither is used for a long period of time.
NOTs
Over Too Soon
Evoland is a thoroughly enjoyable experience with the biggest downside being it is all over too soon. The game should take most players little over 3 hours to complete the main storyline. While there are other things to do such as discovering all of the Double Twin cards and locating all of the stars once this is over replaying is the only real option. Replaying is a valid option as it is enjoyable a second time through, although there is little variation possible on the short storyline.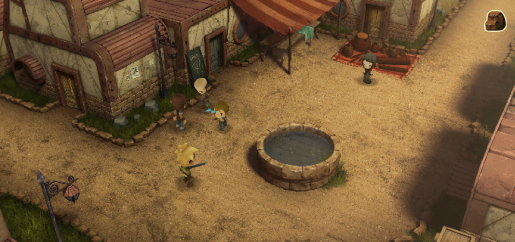 Verdict
With no major bugs or glitches to mention, it is hard to fault Evoland. The game is short with close to 85% being easily obtainable with 4 hours, but this is the only gripe. Trying to make the game last longer may have broken the evolution of the game and it is something that is perfect left how it is. Admittedly I am not a huge Zelda or Final Fantasy fan, but I still understood the many references that were included. If you are a fan of old RPGs, this is definitely a game you should play.
[Editor's Note: Evoland was reviewed on the PC. The game was provided to us by the publisher for review purposes.]
Evoland Review

,