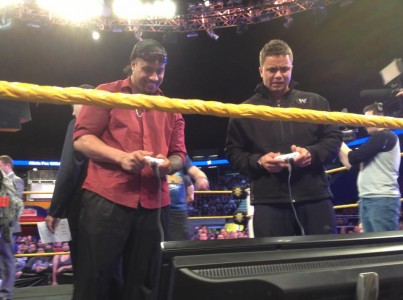 The WWE is holding the fan axxess to celebrate WrestleMania 29 this week. One of the annual events is having the WWE wrestlers face each other in the WWE '13 video game.
It's disappointing that last year's winner AJ Lee didn't participate to defend her crown. I guess the organizers felt she was "too good" to compete because she is an actual video game fan. Most of the other wrestlers on the WWE roster button mash their way to victory…
The participants for the tournament were
JTG
Tyson Kidd
Zack Ryder
Big E Langston
Jey Uso
Epico
Jimmy Uso
Primo
Alex Riley
Kofi Kingston
Damien Sandow
Hornswoggle
Sin Cara
Hunico
Rosa Mendes
Kaitlyn
The semi finalists were JTG vs Hornswoggle and Big E Langston vs Jimmy Uso. JTG was playing as Dolph Ziggler while Hornswoggle was playing as CM Punk. Big E Langston was playing as Road Dogg while Jimmy Uso was playing as himself.
Unlike with previous tournaments in the past, the top four wrestlers actually knew how to play WWE '13. They knew how to kick out of pins and reverse moves. Although I would say that JTG kept spamming the same moves all of the time.
The final of the WWE '13 Superstar Challenge was:
Big E Langston vs Hornswoggle
Again, Big E Langston was playing as Road Dogg while Hornswoggle was playing as CM Punk. In what was a very competitive final, Hornswoggle won the WWE '13 Superstar Challenge. Hornswoggle won a trophy plus an Xbox 360 console for this efforts.
Damien Sandow voiced his opinion on losing in he first round and has already vowed to enter in next year's tournament. Next year, the WWE Superstars will be playing WWE 2K14.
If you missed out on the event, you can view the video by clicking here.
Sadly, no news was shared about WWE 2K14. Hopefully 2K Sports is ready to announce more about the game very soon.