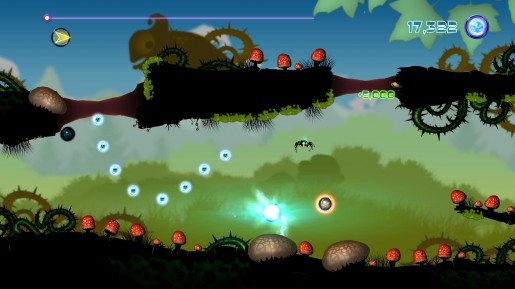 NOTs
Frustrating Controls
The tutorial may teach players how to shoot stands of silk to swing across gaps but the issue comes when everything is faster paced. By flicking the right analogue stick Spidy shoots out the web, just as you would hope Spiderman does to swing between buildings. Unfortunately, the unforgiving nature of the game means that even the slightest misaim can see your momentum crash down into a bed of spikes. On a title that aims to make players go as fast as possible to collect points and sting up combos having controls that let you down can be truly frustrating. There is nothing worse than failing a level and having to look down at the controller knowing that the picky controls contributed do your downfall.
Too Challenging?
If you ever finish the levels there is a feeling of great accomplishment and games are often too easy these days: however is there limit where difficulty starts to stop a game being enjoyable? If at first you don't succeed, try, try and pretty much again. This should be Alien Spidy's tagline. The game certainly ramps up in difficulty and with a scoring system where simply completing levels isn't always enough to progress, when does it start to be hard work and not enjoyable to play? Everyone will react differently to the challenge but I can see many being put off the game after spending half an hour completing a level only to find they didn't get enough points. Also even after you have made it to the end of a level the victory and sense of accomplishment is short because you know another level is waiting there for you.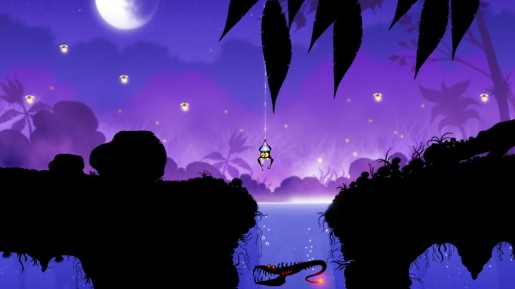 Previous Checkpoint Glitch
After the extensive difficulty and the occasional frustration caused by the controls, there is one last thing that can cause players to throw down the controller. On levels where Spidy is going down or across the checkpoint system works perfectly; however, when levels see Spidy climbing to get to the end goal sometimes issues occur. If the player over does a jump or swings too far causing them to fall to a lower section of the level 95% of the time the will die and simply start from the last checkpoint. Unfortunately, on the unlucky 5% of the time players will hit a previous checkpoint causing them to lose progress in the level.
Sometimes it is possible to just redo the section but if it required a power-up that the player has already used it will not be there and the level must be restarted from the beginning. There are two easy ways around this either make the power-ups respawn or when new checkpoints are reach have the old ones disappear. Alas, neither of these options have been put into place and another layer of possible frustration is added into Alien Spidy.
Verdict
Alien Spidy has promise. It's simple and distinctive cartoony style is visually pleasing. The general mechanics work fine on the slow paced early levels and there is fluidity to the momentum based platformer when players complete sections of levels perfectly. If the problems with the controls, progression through the game and checkpoints could be fixed leaving just the extensive difficulty of each individual level the game would be infinitely improved. Until this issues are looked at unless you want a monumental test of both your platforming abilities and patience Alien Spidy isn't for you.
[Editor's Note: Alien Spidy was reviewed on the PC. The game was provided to us by the publisher for review purposes.]
Alien Spidy Review

,