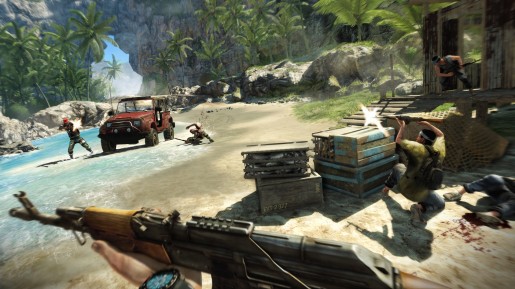 If you think you are finished with Far Cry 3, think again as the patch released today adds couple of new things.
Those who will download the new patch will see couple of new changes; an outpost reset, a new HUD settings option, and finally a new difficulty options that will further test your skills on the island. In addition to the newly added content, there are also some enhancements to the multiplayer portion of the game.
Here's the complete list of the things that are on the new patch:
SINGLE PLAYER:
– Outposts reset: after the end of the game, players can choose to reset the liberated outposts to face the challenge to take them over again.
– A new difficulty setting: Players who have completed the campaign can restart the adventure on MASTER difficulty, with more challenging enemies and dangerous wildlife.
– New HUD/UK settings: allowing most on-screen information can be toggled on/off in the settings.
MULTIPLAYER
– Map Beta Test: Players who upload a new map can now publish it as a beta test to monitor how it is played and improve it before releasing to other players.
– Maps by author: Players will be able to search all the maps created by an author.
– Idle kick: The feature that kicks out idle players during a MP match is removed from custom and private matches.
– The Skip map voting system has been improved with more visibility and time to cast the vote