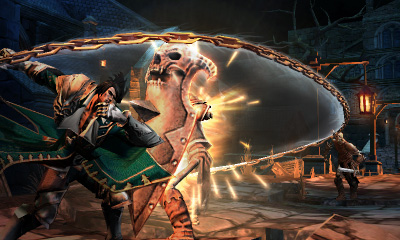 NOT
Repetitive Button-Mashing
It's great that Mercury Steam puts its own flavor of combat in Mirror of Fate but the reality here is, the game will get pretty repetitive. Though the game has several combos that fans can master, the end result is that fans will be button mashing non-stop. Those who are hardcore fans of the series, this may not matter much but for someone who is just coming in, they might get surprised on how repetitive the combat can be, despite having those combos that they get to learn.
Predictable Story
Expanding the lore behind the Castlevania series is a good thing for fans but a game with a predictable storyline, it may turn off some fans. Just getting through a story arc of one character, you already know what's going to happen and the end result of the story for this game. Despite the story's predictability, I still commend the expanded lore Mercury Steam did with Mirror of Fate and as a Castlevania fan, I am quite pleased to see the classic characters back.
Exploration can get tedious
Sure, the visuals of Mirror of Fate are awesome and it's nice to see every corner of Dracula's castle. With a big castle that you have to explore, there's one drawback to it and that is you will be doing a lot of backtracking and getting lost. Luckily there's a map to guide you but with a castle so big, there are areas where you will easily forget how to get from one area to the next.
Excessive Checkpoints on Boss Fights
One of the key highlights of Mirror of Fate is the epic boss battles. While I mentioned that it offers a great challenge, it will be ruined when you find out that there will be checkpoints for each phase of the game. Depending on how far fans have damaged the boss and you die, you can respawn on that same amount of the boss's health, thus giving away a slight challenge to the fight. It's not a bad thing at all as the bosses really can get tough but they shouldn't have excessive checkpoints for every boss fight since the very challenging boss becomes very cheap.
VERDICT
Castlevania: Lords of Shadow – Mirror of Fate is still a great game despite the flaws that it has. Taking a big risk in putting innovation to the 2D classic gameplay the series had for decades is tough and not all of it will please fans. The expanded lore to the series is great and implementing the combat of Lords of Shadow is a great change of pace in a 2D Castlevania game, although it can get repetitive at times. Regardless of flaws, those who have played Lords of Shadow will still have to get this game.
[Editor's Note: Castlevania Lords of Shadow – Mirror of Fate was reviewed on the Nintendo 3DS platform. The game was provided to us by the publisher for review purposes.]
Castlevania: Lords of Shadow - Mirror of Fate Review

,