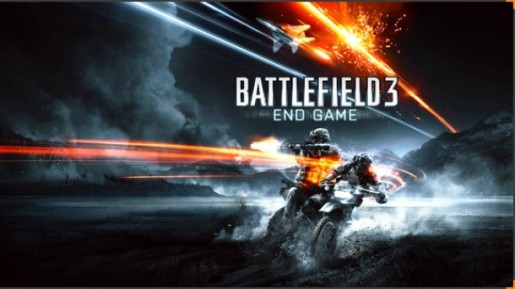 Battlefield 3 has been out for over a year now and the popular FPS is finally receiving its last DLC appropriately titled End Game. By now you've seen the trailers showing off the new modes and brand new maps teeming with dirtbike chases and IFV airdrops. It all looks very promising, and unbelievably awesome. However, a short action mash-up doesn't tell the entire story. Whether you're a Premium member or not, you'll want to know whether DICE's last DLC is worth the subscription or individual purchase. Fortunately for you, we here at JPS are ready to fill you in on End Game's offerings.
Let's take a look at what's HOT and what's NOT in our review of Battlefield 3's End Game DLC.
HOT
Two Wheels Are Better Than Four
It's no secret that one of End Game's biggest draws (or at least,one of its most marketed features) is the addition of a new transport vehicle, the dirtbike. Battlefield may be seen as a slower burn than Call of Duty, but these dirtbikes show just how hectic the competitive online can get. The speedy dirtbikes allow faster travel as you zip between the different zones in Conquest. Plus, the two-wheeled transport has room for two riders. So you can ride across these new maps while your buddy covers your back, quite literary. Partaking in a dirtbike chase/gunfight is a thrilling experience and one that Battlefield 3 players are sure to enjoy. Not to mention you are even able to wheelie through the war zone. The enjoyment provided by taking the dirtbike for a spin is only further amplified by the fact that the new maps are custom-tailored for the vehicle's inclusion. You'll find plenty of ramps and jumps, both man-made and through natural formations in the environment, to launch off of.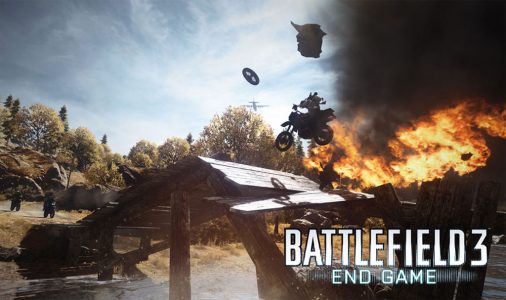 Death from Above
I still remember the rush obtained from diving into battle on Damavand Peak. It's exhilerating to rocket into battle, parachute in on a spot of your choosing and deploy your best tactics on your foes. End Game lets you experience this more often thanks to the dropship. When the objectives are under siege, don't settle for a preset spawn location; come in from above. Selecting the "Dropship Paratrooper" option when respawning allows you to choose when and where to jump into the battle. It's definitely fun the first few times, although I don't see it being selected consistently over on-ground options. The bigger draw is the "Dropship IFV" option. You can set yourself up in a powerful IFV and parachute down to the battlefield. The animation alone is a joy to watch. But being able to hit your enemy with a land vehicle from an unexpected angle results in even more satisfying battles.
Seasonal Slaughter
DICE has implemented some pretty specific themes in Battlefield 3's past DLCs. Back to Karkand showed maps of days past; Close Quarters provided scaled-back arenas; Armored Kill played to the franchise's strengths by bringing massive environments; Aftermath brought more destruction with its earthquake devastated areas. So, what's End Game's theme? It wasn't immediately noticeable to me at first due to each map's distinct aesthetics. Then it hit me; End Game is composed of seasonal maps. Kiasar Railroad takes place during Spring and is filled with lush green trees surrounding the railway-split map. Here you'll find a mountain range and a coastal line acting as natural barriers on either side. The varied terrain is perfect for epic dirtbike rides or stealthy approaches through thick brush.
Battlefield 3: End Game DLC Review

,