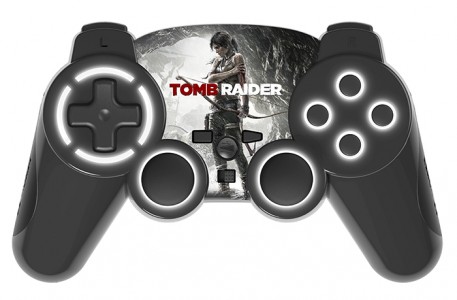 A few days ago, we reported that Tomb Raider will receive a Limited Edition Wireless Xbox 360 controller. Following today's announcement by Bigben Interactive, we can now expect a special edition controller to pair up with the PS3 for the game's release on March 5th.
Rather than take on the weathered and worn look sported by the red Xbox 360 controller, the PS3 variation takes a more straightforward approach in its design. The young Laura Croft is placed in the center of the controller (between the face buttons and D-pad) and is accented by white backlighting surrounding each button. The standard Sixaxis and rumble technology are also included in this accessory.
Bigben Interactive is also planning on releasing Tomb Raider-themed phone covers for popular mobile devices, such as iPhone 4/4S, iPhone 5 and Samsung Galaxy SIII. These will also be made available upon the game's launch. At this time, none of the previously mentioned accessories have been given a price point. Now let's finish this off by focusing back on the controller for a second. For those of you who own both current-gen consoles, which controller do you prefer: PS3 or Xbox 360? Leave a comment letting us know your preference and if you plan on purchasing the new Tomb Raider day one.