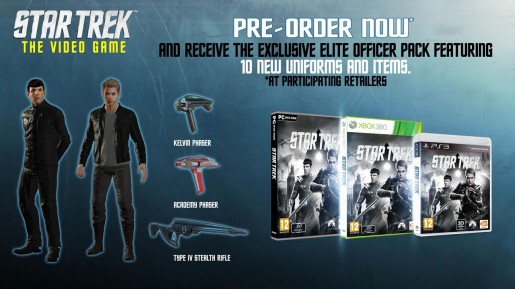 Star Trek's release date and pre-order bonus have been revealed by Namco Bandai and Paramount Pictures today. The title is set to hit PlayStation 3, PC and Xbox 360 on April 23rd in the US and the 26th in the UK. This puts the release date for the game, starring a young Kirk and Spock, less than a month away from the summer blockbuster, Star Trek Into Darkness.
In addition to this news, those who put down money before the game's release date will receive the Elite Officer Pack. This DLC consists of 5 equipment packs for Kirk and Spock and they are as follows:
Stealth Pack – Kirk and Spock stealth uniforms, plus Starfleet Type IV Stealth Sniper Rifle and extra ammo
Brawler Pack – Kirk leather jacket costume and Spock Vulcan Science Academy costume
Kelvin Pack – Kirk and Spock U.S.S. Kelvin uniforms, plus U.S.S. Kelvin Hand Phaser
Academy Pack – Kirk Academy Uniform, Spock Officer Dress Uniform, plus Academy Phaser
Kobayashi Maru Pack – Kirk and Spock Kobayashi Maru uniforms
While only the first pack seems like it'll be the only DLC to really impact gameplay, fans are sure to enjoy the variety of styles in this content. Will you be pre-ordering Star Trek to obtain this bonus pack?