Run and Stun Mode
Probably the most enjoyable part of Max Payne 3's latest downloadable content is the Run and Stun mode. In this mode, the game randomly picks one player to play as Saci, a diabolical, gremlin looking mascot who opposes the game's fictional baseball 'home' team. Saci is equipped with the newly added stun gun, as well as unlimited stamina and other additional powers. The player then must try their best to fight against the rest of the team and get them on his side. It won't be easy though as it is initially only one against many, but it's surely a fun mode to mess with while the community still is around.
NOT
Challenge Mode
When the New York Minute cooperative modes were first announced, it was seen as something that would be new missions and such to play with friends. Unfortunately, this was not the outcome, and instead, challenge mode is a bit of a hybrid of Score Attack and normal New York Minute. You are given certain objectives (or challenges) to complete, and you must do them in a set amount of time, or risk restarting (the challenge). While this may sound promising, it's not the most interesting thing that could have come out of the DLC. Instead of a new set of maps or missions to play the new mode on, Rockstar has defaulted to using the main story missions that are available as they always have been. For anyone who has played the story more than a few times, this is likely less than enticing. This isn't to say it cannot be fun, but it takes some effort to enjoy and get past playing the same missions over and over again.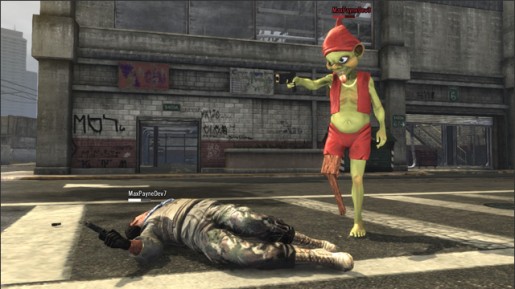 More Multiplayer Content…
Unfortunately, as we previously commented on in the past Max Payne 3 DLC review, the fact that much of the content is multiplayer based, and the community has been nearly dead since not long after release, there leaves little to be done. Once the community fully dies down, the only thing that will remain will be the challenge mode portion of the DLC, which will not likely tide many over for too long.
Verdict
Although Max Payne 3's Deathmatch Made in Heaven content pack aspires to reel players back for one last time, its bait isn't nearly convincing enough. The new survival mode Dead Man Walking can provide entertainment, but it will likely be short lived due to the quickly decreasing community population of the game. Challenge Mode has a good premise, but having not brought in new maps or missions to accompany it was a poor decision on Rockstar's part. Even some comically enjoyable new weapons aren't enough to keep most players on the multiplayer component of the game. With this being said, this content like the others will stand on its last legs for now, while the community is still available, even in bleak numbers, but in the future, it will likely be worthwhile.
[Editor's Note: Max Payne 3 Deathmatch Made in Heaven DLC was reviewed on the PS3 platform. The game was provided to us by the publisher for review purposes.]
Review: Max Payne 3 Deathmatch Made in Heaven DLC

,