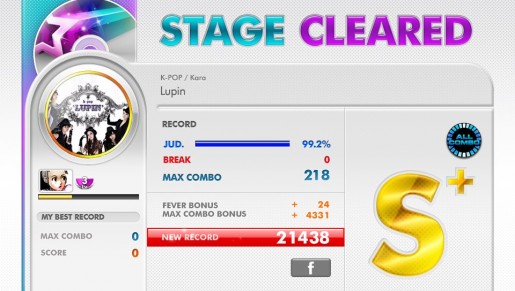 NOT
Modest difficulty curve
While DJ Max Technika Tune is definitely tailored to be a pick-up-and-go experience, newcomers might first be worried with the purely touch driven gameplay. The original arcade machines operated with four different lines of notes scrolling back and forth across the two tracks. In Technika Tune, that's slimmed down to only three. All of the songs that were in previous Technika titles actually had to be reworked and given all new notecharts just to take advantage of the smaller field.
The hold notes, namely ones that require pressing down on a stationary note while the rest of the song scrolls on, are relegated to the rear touchpad. While there is an option to turn off the rear pad and go for a single screen experience, I do suggest against it in some of the later songs unless you have a good base to rest the console on,
How am I supposed to hold this thing?
My only real gripe about DJ Max Technika Tune comes only from my own inexperience with the game for the first couple hours. Between trying to balance the system securely in one hand while still being able to tap the rear panel and working on the front touchscreen, I frequently found myself in situations where my hand would accidentally block the right side of the screen and I'd end up missing a note and ruin a combo streak. Sadly, the only recommendation I can offer is to experiment with holding the console in different styles until you can find one that feels comfortable. Once you've got that perfect spot, the rhythm and fever will flow like musical gold.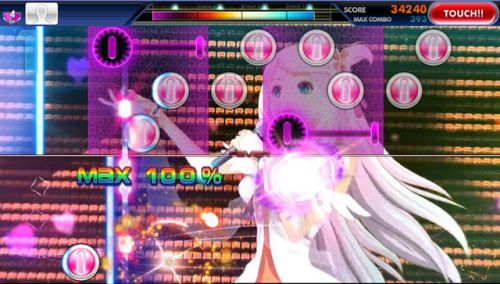 VERDICT
DJ Max Technika Tune is a shining example of how the DJ Max series still ranks among the top rhythm game series.The game shines as one of my favorite Vita games of the year and easily the number one rhythm and music game of 2012 (Sorry Project Diva F!). While newcomers may feel a little lost with first picking up the game, those that give it a couple rounds and figure out how to master the rhythm will definitely find a rewarding experience. Those interested in purchasing DJ Max Technika Tune can either purchase a digital copy through the PlayStation Store, or order a physical copy directly from Pentavision.
[Editor's Note: DJ Max Technika Tune was reviewed on the Sony PlayStation Vita. The game was provided to us by the publisher for review purposes.]
DJ Max Technika Tune Review

,