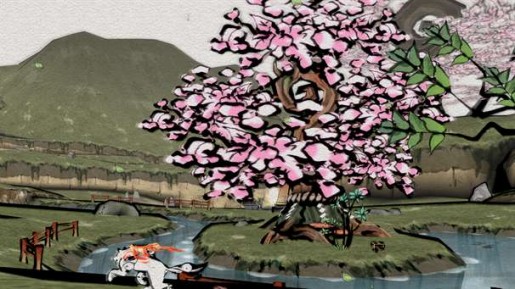 Trophies And PlayStation Move Support
If you already played the original game on the PS2, you may want to experience the game again because there are lot a few trophies for you to collect now. If you already finished the game on the PS2, this is an easy way to add to your trophy collection if you are a trophy whore.
As for those PS3 gamers that have a PlayStation Move controller lying around, Okami HD has full support for it. It's one of my favorite games that makes use of the PlayStation Move controller because you don't need to have you hand up all of the time. The only time you need to use the Move controller is when you are drawing with the "Celestial Brush". It's arguably better to play the game with a Move because you are able to draw more accurately than just using the left stick on the traditional PS3 controller.
A Lengthy And Satisfying Adventure
Okami HD isn't a game that can be completed in just 5-7 hours like with most other video games released these days. Depending on skill your personal skill level, Okami can be completed between 12-15 hours. This doesn't include some of the side-quests that are on offer here either so you're looking at a pretty decent adventure game. Also, Okami's level design allows for the player to explore every inch of the area before moving on. This isn't a linear gaming experience where you're just moving in one direction and a waypoint is telling you where to go all of the time. Okami plays like an epic action-RPG game like Nintendo's Zelda games.
Not
Annoying Voice Overs and NPCs
Okami HD is a near perfect video game and I love it more than most current generation games I've played. The only thing I found slightly annoying about the game is the voice overs. Much like The Sims, the characters in the game don't speak any language spoken on Earth. They speak gibberish instead which can be quite annoying to hear frequently. It might have been better if they spoke Japanese instead with English subtitles much like Sega's Yakuza games.
Another thing to mention is that the non-playable characters (NPCs) are annoying too. The human characters are often dumb and cannot solve all of their problems on their own. It seems as if Amaterasu and her companion Issun are the only smart characters in the entire game. The game could have benefited slightly if it had some better supporting characters to help Amaterasu.
Verdict
Ignoring the annoying sounding voice overs and non-playable characters, Okami HD is a near perfect gaming experience. The upgraded HD visuals are wonderful and the gameplay is both addictive and very unique. The game is also not too easy nor is is too hard either. If you never heard of Okami or missed it when it was released on the PS2, don't make the same mistake again. Even if you already own the game, the HD graphics are awesome enough for you to buy the game again.
[Editor's Note: Okami HD was reviewed on the PlayStation 3 platform. The game was provided to us by the publisher for review purposes.]
Okami HD Review

,