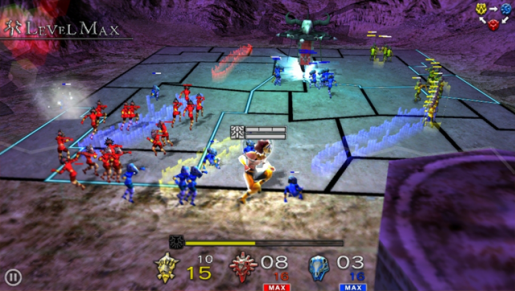 At this point you might be wondering, where does the rhythm come into play? Well in addition to what's mentioned above, you also have to perform these tasks while maintaining rhythm. This is simply selecting things when the descending circle is closer to the option, but you can't take your sweet time with it either. This is because you gain levels (power / defense), troops and even attacking is based off your ability to correctly input the commands. Needless to say, this is a LOT of things to keep in mind before actually doing anything.
Ad Hoc Multiplayer
In addition to single player, Orgarhythm also has a co op and versus mode. However these modes are Ad Hoc only, which basically means you need to find someone with a Vita / Orgarhythm. Considering this is a niche game that most people will never even hear of, there is a good chance you won't be able to use these modes. To make matters worse, there are also 6 trophies attached to multiplayer, so it's also impossible to platinum without finding someone near you.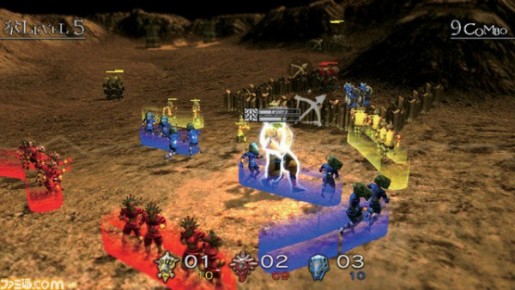 Art is Bland
While the gameplay might be very complex, the same cannot be said of the graphics. For the most part, the environments are vast empty wastelands with maybe a pillar or some enemies waiting for you.  As far as enemies go, they're pretty much just colored humanoid creatures, much like the minions that follow you around. Thankfully bosses look a little more unique, though Orgarhythm is easily the least impressive looking title on the Playstation Vita.
Limited Replayablity
Unless you know someone else with Orgarhythm, the only mode you can play is single player. The campaign isn't that long, nor is there any sort of story, so it really comes down to how much skill you have. You can further increase your time by playing each stage on a higher difficulty or achieve better rankings, though this will get boring quite fast. It's a real shame there isn't a boss rush mode or something else that might make the game more enjoyable to play.
VERDICT
While I will always commend a game for trying to be different, you also have to bring more than that to the table. With subpar graphics, virtually no story / explanation for what's going on, awful controls and a lack of modes, it hardly feels like Orgarhythm applied any effort past the concept. Even this would be acceptable at $10 dollars, but at $30 dollars it's laughable, especially when you can buy almost any other title for another $5 dollars. Needless to say, you won't be missing much if you miss out on Orgarhythm.
[Editor's Note: Orgarhythm was reviewed on the Playstation Vita. The game was provided to us by the publisher for review purposes.]
Orgarhythm Review

,