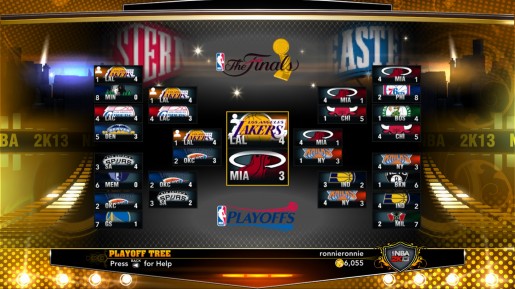 Simulations cannot always predict what is going to happen in real-life, although they can come true at times. 2K Sports ran a simulation of the upcoming NBA season on NBA 2K13 and it sees the Los Angeles Lakers winning the NBA title next year.
2K Sports posted a lengthy article with every last detail of what happened during their virtual NBA season. In the regular season, the Los Angeles Lakers led the Western conference, while the Miami Heat led in the Eastern conference.
Fast forwarding to the Playoffs, the Lakers fended off the OKC Thunder in the West final in Game 7, while the Miami Heat easily beat the New York Knicks in only 5 games.
This set up can epic final with the Los Angeles Lakers beating the Miami Heat in Game 7. Many experts are predicting this will be the final next year because of all of the star power that is on both teams now.
Do you like NBA 2K13 simulation? Do you want to see the Los Angeles Lakers win next year?