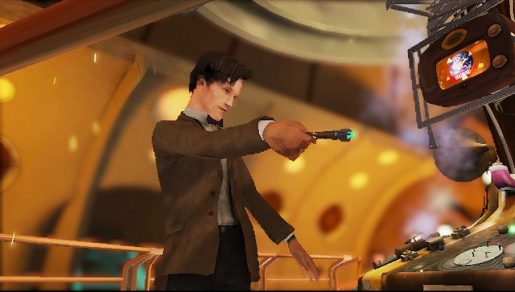 When Doctor. Who: The Eternity Clock released some time ago on PS3, some were disappointed to see that there was no Vita version following it. The developer at the time had no real comment on the status of a Vita version, but it seems between then and now, it got worked out, and coming in the latest Playstation Store update will be this Vita version.
Though the game itself will be generally the same, many features have been added to the Playstation Vita version of the game. One addition will be the ability to change your control scheme to utilize both the dual analog stick of the Vita, as well as the Vita's touchscreen. There will also be Near functionality for Doctor Who: The Eternity Clock. Players using the Near application will be able to collect Gallifreyan medals, and then drop them as they please for other players to find. Lastly, the game will support cloud saving between the PS3 and PS Vita versions. This is not simply backing up saves, but is similar to titles like MLB 12 that allow you to continue your progress between versions.
Though the versions are not identical, feel free to check out our review of Doctor Who: The Eternity Clock on PS3 for a general idea of how the game is.