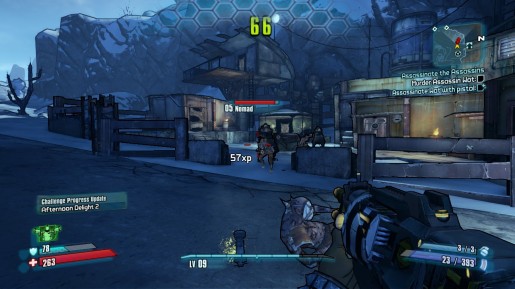 When it comes to games like Borderlands 2, a lot of people quickly assume luck to be fact or that everything is as it seems. While that is true for many games, Borderlands 2 has a lot of confusing elements, weird side tasks and generally misunderstood concepts. Since we all just want to save some time, I comprised a guide of helpful information and first hand experience from my adventures in Pandora.
[Editors Note: This guide contains only factual information, unless stated to be speculation. Anything said as speculation should be taken as hearsay and is most likely false. These elements are really only included as they can help make some grinds more bearable. If you're not a fan of these pseudo facts, then please comment and I will make up my own for you to try.]
Trophy / Achievement Guide
Challenge Accepted
Completed level 1 of all non-level specific challenges with a single character.
This is easily the most confused and messed up task in the whole game, so please read this guide carefully. Since I've personally received over 100 questions about this task alone, I have compiled all the most common misconceptions in the guide below.
Knowing your level:
Gearbox really screwed up the presentation, which causes many people to think level 0 is actually level 1. This is by a wide margin the MOST common issue people have, so lets actually look at it.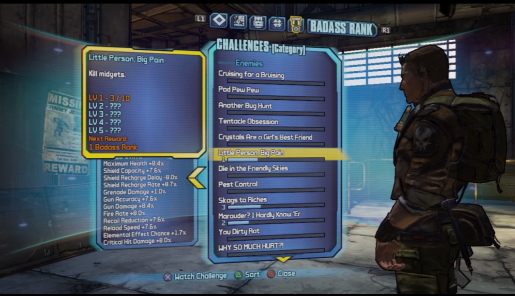 The following image shows a skill at level 0, as you can see the number 1 is to the left, which basically means you have X progress to level 1.
This image is what level 1 actually looks like. Since I obtained level 1, the bar is now showing me my progress to level 2.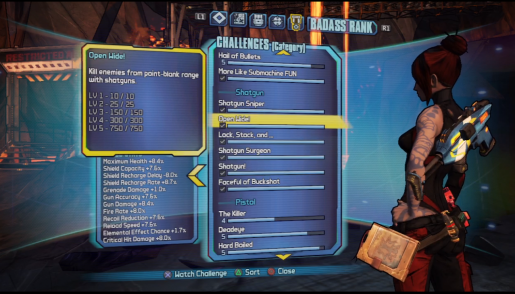 Finally we have level 5 or maxed out status. A skill is only level 5 when it displays this checkmark, so if you don't have the checkmark, then you're not level 5.
"Hidden" Challenges:
As you progress through the game, most of the hidden challenges will unlock by default. Since I suggest you wait till you're level 50 to deal with this task, you should have everything unlocked, except for the "common 3".
The common 3 is what I dubbed the 3 most widely missed challenges in the whole game. This is because you need to max out (see the level 5 image above) a skill to unlock them, but some of these things are not commonly done. The three challenges are as follows.
Splish Splash – Killing an enemy with "splash" (indirect rocket kill) damage.
Open Wide! (most common) – Kill an enemy at point blank (directly next to you) range with the shotgun.
No Scope, No Problem (sometimes unlocks earlier) – Kill an enemy without using the sniper scope.
Once these skills reach max level, they will unlock a new challenge, which you may or may not have leveled over time. Sadly the trophy / achievement only unlocks if they appear, so you can have the other skills maxed and not know till you unlock it. In just about every case, they should be at least level 2, so don't worry about leveling them. If you're having problems doing any of them, I strongly suggest farming on Caustic Caverns.
Do I need the Cult of Vault or other such tasks done?
No, these tasks are part of the level specific challenges that are not required. You're of course free to do them, but they're not required.
Where the (@$! Is Jimmy Jenkins?!
For most people, this is their final challenge, which appears to be 100% luck dependent. While there are a lot of theories on how to make him appear faster or how to instantly do it, most have been disproven by other gamers. Since that information really isn't relevant, the following is what I know to be a fact.
Known spawn locations:
Opportunity
Bunker
Hero's Pass
Wildlife Exploitation Preserve
I personally believe he can appear anywhere a robotic loot midget appears, but this is pure speculation. I strongly suggest you just pick one of these places and keep trying.
How to actually find him:
Jimmy Jenkins is a rare "Loot Midget" variant, which will randomly appear from opening any sort of loot in the game. Certain people believe only exact spots have a chance of spawning Jimmy, which might be true, but others have confirmed multiple locations on a single map. Due to this, I strongly suggest opening everything and anything you see.
Does everything need to be done in one cycle?
If you're worried you'll lose all your progress on True Vault Hunter mode, don't be. These challenges count for anything your character does, provided they ACTUALLY do it. So if you join someone else's game and kill Jimmy, it counts. If you play True Vault Hunter mode, it counts. If you're playing as your side character Victoria the Siren and not your main Abbo the Gunzerker, then it's not going to count. If your friend slays Jimmy cause you're down, bad news, you got to find another Jimmy Jenkins to kill.
How do I do ____ challenge?
Considering there are 114 total challenges, it would take way too much time and effort to detail them all. Since I would still like to assist you with this task, please just post the challenge's name and description in the comments and I will explain it to you. For PS3 users, in some cases I keep some commonly missed items in my inventory, which you're welcome to.
Where can I find a complete list of challenges?
Most likely someone has complied them all in a checklist by now, but I just made a video of my complete list. If you're missing something or want to make sure, just compare my list with yours.

Goliath, Meet David
Allowed a Goliath to level up four times before killing him.
When you shoot off a Goliath's head, he will become enraged and randomly attack whoever is hurting him. This will sometimes be an ally, which will cause him to level up. The more people he kills, the higher the level, so you basically have to wait it out. The trophy will unlock if his title says GOD-Liath, though some people have reported other names. Since this can be a fairly annoying task, I suggest doing it during the "Once and Future Slab" story mission. You can find a video of this below.