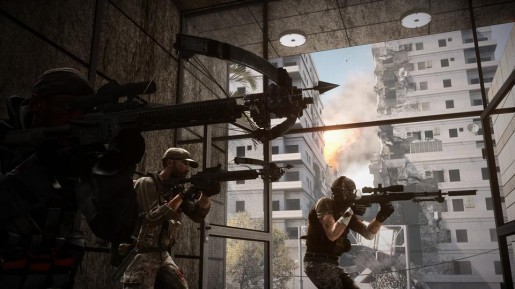 Battlefield 3 has just received a new trailer for its upcoming Aftermath DLC and it has some additions that are sure to get people excited. What you may notice right away is the crossbow, a new weapon being added to the online battles. This all-class weapon takes up a secondary slot, replacing items such as C4 and grenade launchers. Furthermore, 4 bolts will be available: explosive, sniper, detection and a currently unannounced type.
Then there's the new Scavenger Mode. In Scavenger, players start out with only a pistol, knife and a grenade. They must work with the rest of their team, who are also limited to the same equipment, to locate the random weapon drops in the earthquake ravaged environment.
You can see some of this in action in the new trailer included below:
To make things easy on our readers, I've separated the different release dates according to platform and Premium status.
PlayStation 3
Premium November 27
Non-Premium December 11
PC and Xbox 360
Premium December 4
Non-Premium December 18