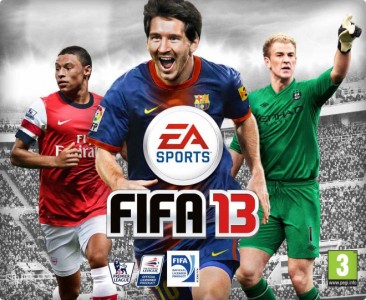 It's been four days since the release of EA Sports' latest hit in the FIFA franchise and after being just the fourth game (ever!) to have sold more than 1 million copies in it's first week of release, now is a good time to get involved with the FIFA 13 Ultimate Team market. Ultimate Team is a game mode which focuses on players building dream teams, opening packs of players and taking their teams to trophy-winning standards. Ultimate Team started in FIFA 10 and has been a hit ever since. Today, I'm going to show you the best way to trade your way to coins early on.
Packs
When the game has just been launched, buying packs is a brilliant investment but only in low quantities. At the start of a FIFA year, big players sell for lots and lots of coins but gradually decrease in price over time. Take Mario Gotzé on last years game for example, at the start of the year, he was going for anything up to 18,000 coins and gradually started to lose price, eventually selling for around 1200 coins. That's why buying packs at the start and hoping for good players is a good strategy, especially if you like to make your coinage by playing matches. Be careful though and make sure to avoid selling contracts for early on as they go for much starter at the beginning of the game than as it progresses. I was able to grab a shiny gold contract at the steal price of 400 coins.
Investing in Contracts
As mentioned in the previous paragraph, contracts sell for much cheaper at the start of the game than they do later on. Now is the best time to buy contracts and keep them somewhere safe for use at a later date. You can buy shiny contracts now for about 400-600 coins and sell them for 900-1000 coins later. Contracts are good for players who wish to choose a long term investment method.
4-1-2-1-2 Gold Method
This method is my personal favourite and what I make most of my profit with. This method simply involves searching on the market for players which are Gold and in formation 4-1-2-1-2. Once searched, scroll through the players until you find shiny gold players. Afterwards, check if they are going for a reasonable price but if you don't know, quickly add the player to your watch-list and back out to the search screen. Now, try to find the player as quickly as possible and if you can find him in time, look at the average 'buy now' price. If you can get a quick, rough idea, go back to the watch-list and try to get a bid in (but only if he's cheaper than the average 'buy now'!). As you progress with this method, you will get to know the market itself and will be able to easily identify a steal of a bargain.
Playment
The 'playment' method is a quick, simple (and brilliantly named) method to make coins. This method involves using your basic starter pack, bronze team to play matches to fund your trading. Added to the new EAS FC unlockables that increases the amounts of coins given each match, the 'playment' method is an easy way to get started. When needing to buy contracts, it is a much safer bet to buy a 400 coin bronze pack and sell the excess, as bronze contracts can cost 200-250 coins. This method is good to start with and to produce a 'fund' to start trading with but only increases your balance slowly and is not ideal for long term fundraising.
Overall, trading is by far the best method of making coins in FIFA 13 Ultimate Team and will make you the richest, by far, out of all your friends. Make sure not to get to complacent and do not get too upset if you make a loss because you can always make that money back.