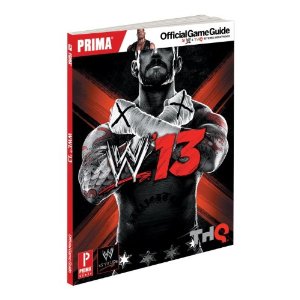 Amazon has updated details on what fans can expect to see in the official WWE '13 strategy guide from Prima Games.
The strategy guide is 192 pages long and has a thorough walkthrough of the game's Attitude Era campaign. There will also be details of how to get all the extra unlockables in the game plus profiles for each of the wrestlers in WWE '13.
Check out the product details below:
"FINISH THE CAMPAIGN – Complete coverage and insider tips from the development team on the franchise-first single-player campaign focusing on the Attitude Era during the famed "Monday Night Wars"
BECOME A WWE CHAMPION – Let our expert advice guide your decisions throughout gameplay and unpredictable moments along the path toward becoming a WWE champion
BONUS OBJECTIVES AND UNLOCKABLES – Learn every hidden objective and unlock every storyline, unlockable, and bonus match
COMPLETE ROSTER PROFILES – Learn every move for every character from the largest roster of WWE Superstars and Attitude Era luminaries in franchise history"
The WWE '13 strategy guide will be available from October 30th for a recommended retail price of $19.99. You can purchase it via Amazon by clicking here.