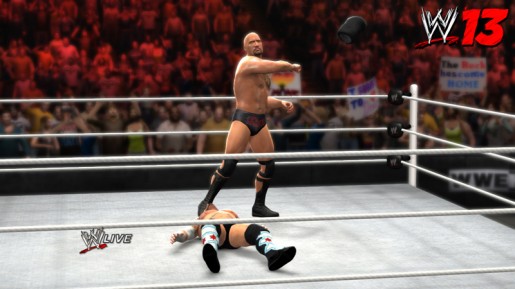 THQ has released a bunch of new gameplay videos for WWE '13. Here you can witness the entrances and finishing moves from the likes of The Rock, Randy Orton, Lita and many more.
The Rock has a beard this time in WWE '13 unlike in WWE '12. Randy Orton has a lot more hair this time around as well and his entrance is more accurate in WWE '13. They finally animated his pose right during his entrance. Other wrestlers you can look at include: Attitude Era Lita, Farooq, Bradshaw, Wade Barrett, Road Dogg and Heath Slater.
WWE '13 is out from October 30th for the PS3, Xbox 360 and Wii.
Check them out with the links provided besides each wrestler's name:
– "Attitude Era" Lita: Entrance | Finisher
– Bradshaw: Entrance | Finisher
– Farooq: Entrance | Finisher
– Heath Slater: Entrance | Finisher
– Randy Orton: Entrance | Finisher
– Road Dogg: Entrance | Finisher
– The Rock: Entrance | Finisher
– Wade Barrett: Entrance | Finisher