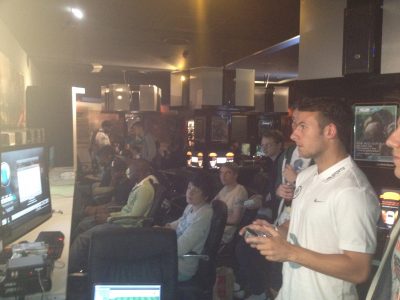 As we stated yesterday here, there was a FIFA 13 preview event held today in England at the Manchester and Trocadero London stores of HMV.
Reading FC Premier League player Adam Le Fondre made a guest apperence as promised, fully kitted in his EA Sports promo wear. Not all went to plan however as the actual builds of FIFA 13 turned up about an hour late and the proposed live match between Adam and Chris Smalling at the Manchester store did not go ahead as they were unable to link up online (thanks internet).
However, as most of the public were pre-occupied with actually getting hands on time with FIFA 13 rather than signed autographs from Adam, he did please the crowd at the end by taking part in a crossbar challenge, which is one of the many mini skill games included in the title and was filmed by IGN. Adam of course did hit the crossbar, but only about three times out of ten attempts – pretty sure the QA team at EA who tested FIFA's latest instalment have him squared away on that particular stat.
FIFA 13 is releasing on September 28th for all platforms.