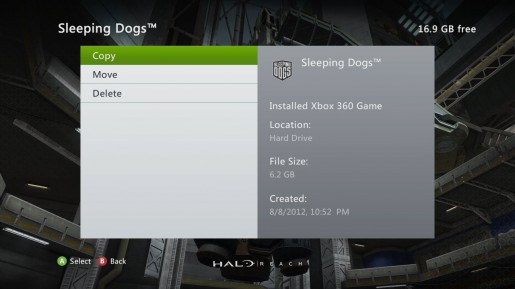 Sleeping Dogs is right around the corner and many eager fans (hopefully some long-time True Crime followers, too) are readying themselves to walk the fine line of an undercover cop. Before taking control of Wei Shen, PlayStation 3 owners will have to wait through an install, as usual, while 360 owners will have to decide whether or not they wish to install the full game. Us here at JPS have the install sizes for those interested in finding out how much space must be sacrificed for this open-world title.
In order to optimize Sleeping Dogs' experience, the PS3 version of the game is going to have to install once the game is first started up, which will take up 4.6 GB of space. The title's Xbox 360 counterpart can be fully installed if you so choose, and happen to have the available space. To do so, you'll need to ensure that you've made room for 6.2 GB, as you can see in the image above.
So, there you have it. Check out the numbers for your respective console and determine whether or not its time to do some virtual cleaning.